Warns of a 'Government-lead spiral of disinvestment' in transport network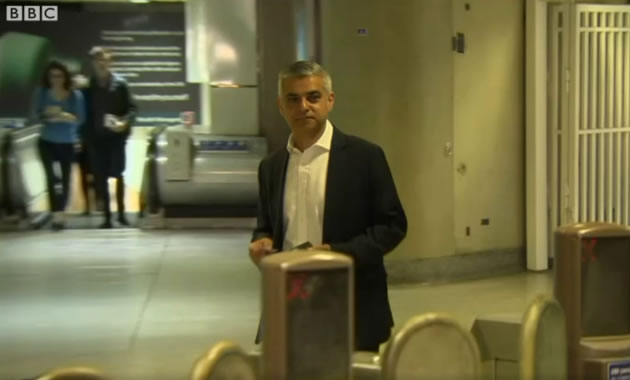 London's entire economy will be at risk if the Government fails to provide a second bailout for Transport for London (TfL), Sadiq Khan has warned.
The transport network is struggling to recover from the coronavirus pandemic, with passenger numbers just a third of normal levels even before the Prime Minister told office workers to stay home last week.
Fare revenues were down 90 per cent at the peak of the virus, and TfL has already had a £1.6 billion cash boost from Government to keep trains and buses running in the short term – but that deal is set to expire on 17 October.
The network is locked in talks with ministers to secure a new package – and the Mayor has painted a bleak picture of the consequences if they fail.
TfL would struggle to run a full service – and cutting back trains or buses, as seen at the peak of the pandemic, would threaten social distancing on public transport, Mr Khan said.
And upgrades to old infrastructure would be shelved – trains on the Bakerloo line could be 70 years old before they are replaced, he warned.
This would mean more breakdowns, cancelled services and road closures, disrupting Londoners and threatening investment in the city.
With London powering almost a quarter (23 per cent) of the nation's GDP, the consequences will be felt far beyond the capital, Mr Khan argued.
"The choice is stark: a safe and effective transport network that continues to deliver for Londoners and support jobs […] or a Government-lead spiral of disinvestment that sees vital infrastructure age and fail," he said.
The relationship between City Hall and Government has already soured over the first bailout, with the Mayor complaining of punitive conditions and the added strain of borrowing that came alongside the grant.
Taking on more debt "is not a viable solution" a second time round, he claimed.
Though TfL has made £1 billion savings over the last four years, it still has high debt built up from an annual overspend that topped out at well over £900 million in 2018/19.
City Hall says TfL needs to return to an annual grant from Government: the £1.7 billion stipend was cut under a deal Boris Johnson made with the Treasury during his time as Mayor.
But opponents blame financial mismanagement, particularly on major investment schemes like Crossrail, where costs have ballooned and opening has been delayed more than three years.
Conservative London Assembly member Keith Prince said the Mayor should focus on constructive work with ministers if he is serious about a second deal.
"Sadiq Khan has some brass neck to warn about underinvestment if TfL isn't bailed out again given his record," Mr Prince said.
The Conservative transport, spokesperson said 21 major projects have been delayed or cut under the Mayor's leadership.
"Khan's TfL games are becoming predictable," he added. "Issue a shocking warning, agree a deal, and blame everything in it on the Government."

Jessie Matthewson - Local Democracy Reporter

September 29, 2020