Twenty nine drivers died of Covid-19 according to independent report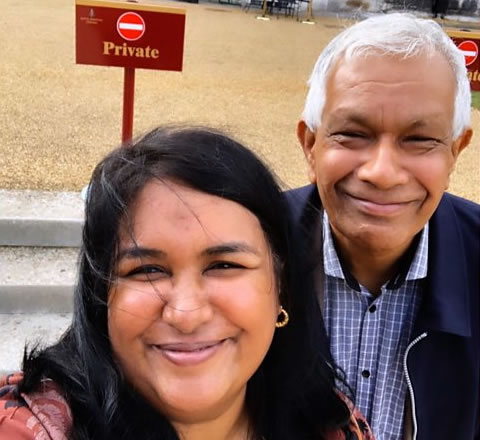 One of the drivers who died Ranjith Chandrapala with his daughter Leshie. Picture: BBC
Fewer London bus drivers would have died of coronavirus if lockdown had been brought in sooner, according to an independent report.
Transport for London (TfL) asked University College London (UCL) academics to investigate as driver deaths soared in the capital – and researchers have published the first part of their study this Monday (27 July).
The pandemic hit bus staff in the capital hard with 29 drivers dying of the disease, according to figures in the UCL report.
During the pandemic, bus driving has been one of the highest risk jobs, according to data from the Office for National Statistics.
Coronavirus caused 128 of every 100,000 bus drivers deaths from March to May, compared to just 78 per 100,000 on average for all jobs
But in April the Local Democracy Service reported that measures promised by TfL to protect drivers were not being implemented across the board.
The London transport authority said buses were being regularly deep-cleaned, social distancing was in place at depots, and driver cabin screens were being sealed to keep staff safe.
The network was also trialling middle and rear door boarding – which was later implemented across the network, though it has since been scrapped.
But employees warned of patchy responses from different bus companies – and accused the Mayor of London, Sadiq Khan, of abandoning them.
Now the UCL report confirms that bus companies did not act as one – noting "inconsistent action and advice" between firms.
The number of deaths also varied between companies – but academics have not yet analysed whether these variations are statistically significant.
Most drivers who died stopped working around the time that national lockdown was brought in (Sunday 23 March), suggesting they caught the virus before restrictions were in place.
Death rates then fell, emphasising that lockdown is the "most effective" way to stop bus drivers dying of the virus, the study found.
This means it is "unlikely" that action by bus companies or TfL affected the number of deaths.
But as lockdown measures continue to ease, and more passengers return to public transport, TfL will need a plan to keep drivers safe, the report stressed.
Many bus drivers are older, male, from black, Asian or minority ethnic (BAME) heritage, and live in deprived areas – all of which put them at higher risk.
The sedentary nature of the job and tough working conditions also contribute to chronic health problems – with hypertension a particular risk for coronavirus, according to the study.
Professor Michael Marmot, who led the UCL research, said lockdown was "the main factor that saved bus drivers' lives" and earlier restrictions would likely have saved more.
"For those with high blood pressure, exposure to Covid-19 is particularly hazardous, disproportionately affecting drivers of ethnic minority backgrounds," he said.
"In addition to reducing exposure to the virus, all drivers should therefore be screened for health risk, with those most vulnerable to dying from the virus receiving the most benefit."
Lilli Matson, head of health and safety for TfL, said the network had been "devastated" by the "tragic deaths" of bus drivers in the capital.
"It's clear that frontline workers across the country have disproportionately suffered from coronavirus, which is why we worked closely with all London bus operators to introduce measures to help keep the capital's drivers safe," she said.
Ms Matson promised to work with bus companies to ensure they all carry out staff risk assessments and support the most vulnerable.
Health services for drivers will be extended and TfL will work with companies to plan for "immediate, consistent interventions" if the virus spikes again, she added.

Jessie Matthewson - Local Democracy Reporter

July 27, 2020