Student-only services to keep children separate from commuters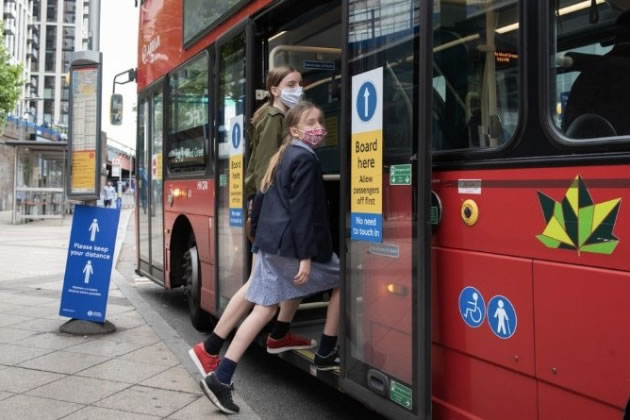 Picture: TfL

As pupils across the capital head back to school next Tuesday (1 September ), there will be extra school buses to help maintain social-distancing.
Transport for London (TfL) is changing up to half of its regular buses on busy routes to student-only services when classes return.
On less busy routes, including some existing school services, extra buses for children will run from the start of term.
Before the pandemic, a quarter of a million London children got to school by bus – but the transport authority now wants more to walk or cycle.
Where children need to catch a bus to class, the network will keep them apart from adult commuters where possible.
From 7.30am to 9.30am and 2.30pm to 4.30pm, school buses will display "school service" signs, with red signs on other buses telling children not to board.
Parents can ride with their children on pupil buses, but other adults should wait for a standard service.
On student buses, social distancing rules will be relaxed in line with Government guidance.
Every seat will be available to use, but children aged 11 or over must wear a face covering unless they are exempt for a health reason.
Bus travel with still be free for under 18s, with plans to suspend free travel for children pushed back and no start date confirmed.
TfL managing director Gareth Powell, who is in charge of buses, said network staff are "doing everything we can" to get pupils back to school safely.
Mr Powell admitted that some journeys may take longer because of the alterations.
"Changes on this scale have never been made to the bus network before and we need everyone to do their bit to ensure children can safely return to school," he said.
"It will greatly help if people can travel outside the peaks or walk, cycle or scoot wherever they can."

Routes where buses will be converted to school services (searchable database):
Routes where extra buses for pupils will be laid on (searchable database):
Jessie Matthewson - Local Democracy Reporter

August 28, 2020