Congestion higher outside city centre than it was this time last year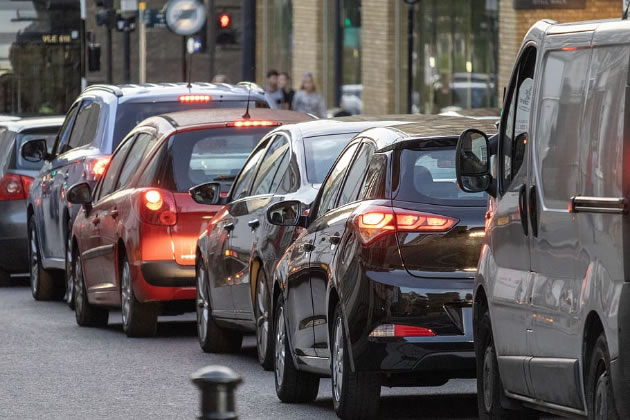 Congestion outside London's city centre is now higher than it was last year, as looser coronavirus restrictions see more vehicles returning to the roads.
Last week, traffic snarl ups outside the Congestion Charge zone were 18 per cent higher than the same period last year, the Environmental Defense Fund (EDF) Europe warned.
Researchers analysed data from Google traffic app Waze, which uses GPS locations on users' phones and crowd-sourced reports of congestion to track traffic.
The app has one million active users in London, and classes congestion as any time drivers are doing 80 per cent of the speed limit or less.
Last Monday (7 September) outer London hold ups spiked to over 150 per cent of 2019 levels.
In the central London charging zone, congestion is now just over half of last year's average (55 per cent).
But this is a vast increase from the six per cent of normal levels seen in early May, when strict Covid-19 lockdown was in place.
EDF Europe policy chief Oliver Lord said the data "clearly" shows London is facing a car-lead recovery from coronavirus – something Mayor Sadiq Khan has been keen to avoid.
It is too soon to judge if new Transport for London (TfL) walking and cycling programmes and low traffic schemes will help, he said.
Restrictions and one-way systems have met with resistance from residents in some parts of the city, such as Ealing and Wandsworth with the latter deciding to scrap their plans.
"These things need time to bed in," Mr Lord told the Local Democracy Service. "There's a reason they have an 18-month trial period.
"People adapt when they get used to it, particularly when they get quieter roads."
But the policy chief said London needs to "go harder" on cycling infrastructure, making sure it is safe enough to encourage new riders.
This means reducing speed limits, restricting the times certain vehicles can drive on roads, and avoiding one-way systems that encourage speeding, he said.
Lowering limits to 20mph across the city would "definitely" help, he added.
The surge in delivery vans in recent years is also a problem, Mr Lord stressed.
Department for Transport data shows van mileage on city roads has jumped nearly 50 per cent in the last decade.
And Mr Lord said coronavirus has "accelerated trends" that were already emerging, like falling bus use and increased home deliveries.
A spokesperson for the Mayor of London said the Mr Khan took "bold action" on air pollution by introducing the Ultra Low Emission Zone.
Expanding the zone will ensure air quality improvements continue across more of the city, they said.
"The Mayor's new Streetspace programme is fast-tracking the transformation of streets across our city to enable many more people to walk and cycle," they added.

Jessie Matthewson - Local Democracy Reporter

September 15, 2020