A programme of Polish cultural events on the internet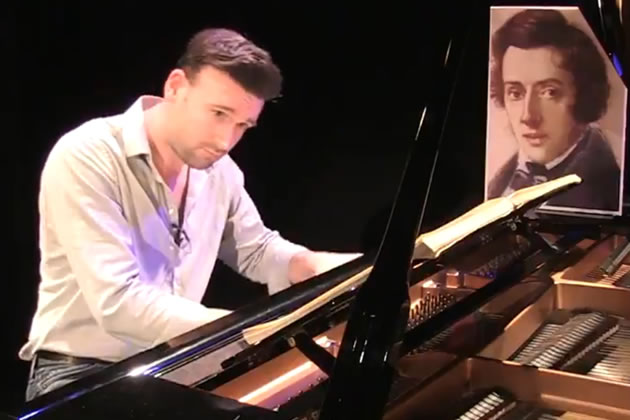 John Paul Ekins with painting of Chopin
This Thursday, a concert of Chopin's music played by award winning Polish and British pianists inaugurated POSK Online, a programme of Polish cultural events on the internet, presented by the Polish Social Cultural Association in London (POSK).
The concert is part of this initiative which aims to present Polish culture, history and art in these times of coronavirus pandemic, when the organising of such events is difficult or even impossible.
The broadcast came in the week when millions of fans of Chopin's music would have been following the Chopin International Piano Competition from Warsaw National Philharmonic, postponed due to the pandemic.
Located in Hammersmith, west London, POSK is the biggest Polish community centre in the UK.
Facing long-term restrictions on audience participation and public events, it built from scratch a whole new TV system allowing for recording and live broadcast of cultural events directly from the stage of POSK Theatre.
Regular broadcasts are planned for every Thursday at 7.30pm
Taking part in the first concert on the POSK Theatre stage were two artists who both studied at the Royal College of Music and have won many international piano competitions.
Artur Haftman is a young Polish pianist well known to the community for his many concerts, including one at Lancaster House during a high-level Polish-British diplomatic event.
The bravura pianist John Paul Ekins, whose many performances include the Royal Albert Hall concert to commemorate Poland's regaining independence, brings an added dimension.
The concert is available for free on the POSK website.
October 23, 2020