Fourth highest number for any local authority area in the UK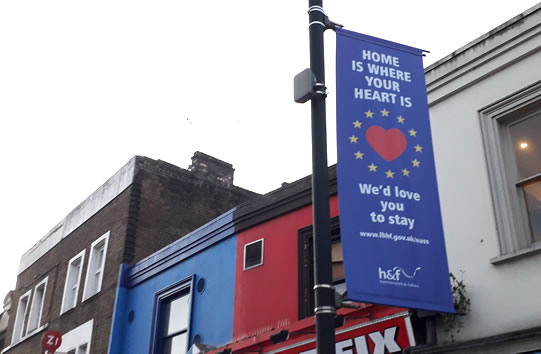 A banner in Fulham Broadway encouraging EU citizens to apply for Settled Status
According to newly published Home Office data, 54,150 Settled Status applications have already been sent by Europeans in the Borough of Ealing, which has a total population of 340,000. The Home Office published the figures this month showing the volume of applications it received between August and December 31 last year, from every borough in the country.
Some 55,000 EU nationals live in the borough of Ealing, according to the local council. The biggest groups applying in Ealing were Poles (12,940), Italians (5,970) and Romanians (4,470).
The number of applications in Ealing was the third highest for any local authority area in London after Newham and Brent and the fourth highest in the UK with Birmingham having 57,340 people applying.
Residents from the continent, excluding Irish citizens, need to have secured Settled Status in the UK by June 2021.
By that deadline, the country will have cut all ties to the European Union's Single Market, meaning EU residents could start needing visas to live and work here.
Data from January 1 has not yet been released.
Among those who applied from Hammersmith and Fulham were 5,240 Italians; 3,650 French and 3,340 Spanish. The next biggest groups were Portuguese (1,690) and Poles (1,560).
Kensington and Chelsea's biggest EU communities were the French (3,610) and Italians (4,110). Westminster's biggest groups were Italians (5,580) and Spanish (3,150).
In total across the UK, there were 2,597,320 applications received from EU nationals, 18,940 received from other EEA and Swiss nationals and 138,270 received from eligible non-EEA nationals. The nationalities with the highest number of applications received were:
• Polish (512,310)
• Romanian (435,690)
• Italian (290,990)
• Portuguese (231,130
Residents with Irish citizenship do not have to apply for Settled Status to stay in the UK, because both countries are part of the Common Travel Area.
According to the Citizens Advice Bureau's website, EU citizens who do not have Settled Status will have difficulty using the NHS, renting a property or applying for a job.
For more information about applying for Settled Status, visit this page.
Written with contributions from Owen Sheppard – Local Democracy Reporter
February 17, 2020