Posters appear across transport network to send 'strong message'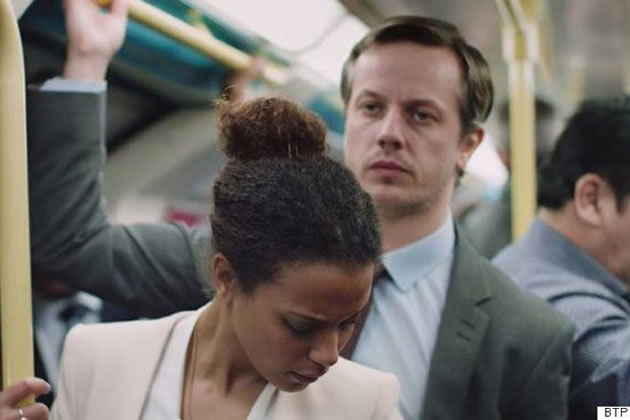 Most offences go unreported. Picture: British Tranport Police
A new campaign was launched on Wednesday (27 October) in an effort to tackle sexual harassment on London's public transport network.
The Transport for London campaign aims to send a "strong message" to offenders there is a zero-tolerance approach to sexual harassment on London's transport network. A series of posters and paid adverts will highlight common forms of harassment such as catcalling, staring and unwanted touching, and will aim to challenge the normalisation of such behaviours.
To coincide with the launch, officers from the Met and British Transport Police were beginning a week of action involving "high visibility" patrols, engaging with passengers about their concerns about sexual harassment. Between 2019 and 2020 – the latest data available – there were 1,884 sexual offences reported on London's transport network, the vast majority of which occurred on the Tube.
But TfL has stressed that harassment goes largely unreported, with a YouGov survey from 2020 suggesting that up to 90 per cent of offences are not reported.
Part of TfL's new campaign will focus on encouraging anyone who experiences or witnesses any sexual behaviour to report it, regardless of whether they believe it to be a criminal offence.
Heidi Alexander, London's Deputy Mayor for Transport, said that "any incident of sexual harassment on our public transport network is one too many" and it is a "top priority" to ensure women and girls feel safe while travelling.
She said: "This new campaign sends a strong message to offenders that unwanted sexual behaviour is never acceptable in any form, and encourages anyone who has experienced or witnessed it to report it. We know that women and girls often feel unsure about reporting these types of behaviours, but if it makes you uncomfortable, it's serious.
"By working with partners on high visibility patrols, targeted policing and engagement activity, we can drive down sexual harassment on the network, ensure that passengers know what to do if they need help, and bring perpetrators to justice."
Plan UK, the non-profit organisation campaigning for girls' rights, has conducted research that found girls as young as 10 have experienced sexual harassment on public transport.
Sally Thomas, Plan UK's girls' rights policy and advocacy manager, said, "Our research shows that public sexual harassment is a relentless part of girls' lives. Girls as young as ten are being harassed, followed and touched and this is happening on public transport too.
"In a recent survey, we found that almost 40 per cent of girls aged 12 to 21 have experienced public sexual harassment on public transport and that these experiences, or fear of them, have led to a significant minority (17 per cent) avoiding public transport at night."
Ms Thomas added that increasing public awareness of what sexual harassment is and the impact it has is "essential", but that "we must go further" to tackle the problem.
She said: "Currently, the law isn't fit for purpose: if a girl is going to school on the train and a man leans against her; presses his body against her, invades her space and whispers obscene comments in her ear, she is not protected. That's why we're calling for the Government to introduce a new comprehensive law on Public Sexual Harassment as a matter of urgency."
In 2019, a change in the law meant that upskirting – taking photos under somebody's clothing – became a criminal offence, with perpetrators facing up to two years in prison.
There have been growing calls for other forms of harassment such as catcalling or wolf-whistling to be criminalised in response to growing fears over violence against women and girls.
Despite around 180,000 people giving feedback to Priti Patel's consultation on gender-based violence in the wake of Sarah Everard's murder, Prime Minister Boris Johnson declined to back calls to make misogyny a hate crime earlier this month and insisted there was "adequate legislation" to protect women and girls.
TfL has stressed that police will investigate any report of sexual harassment regardless of whether it constitutes a criminal offence.
Louisa Rolfe, assistant commissioner for the Met Police, said: "No one should be the victim of sexual harassment and alongside our partners in London, we are determined to take action against perpetrators.
"We know that women and girls are being disproportionately targeted with unwanted sexual behaviour while using London's transport networks and I would urge anyone who experiences harassment to report it to police. Every report helps build a picture of an offender and leads us closer to making an arrest and bringing them to justice.
"We know we have more work to do to ensure women and girls feel safe and we are determined to tackle this awful behaviour, I hope people see this campaign and have the trust and confidence to report concerns to police."

Joe Talora - Local Democracy Reporter

October 28, 2021