This June was the worst month on record for anti-LGBTQ+ hate crimes in London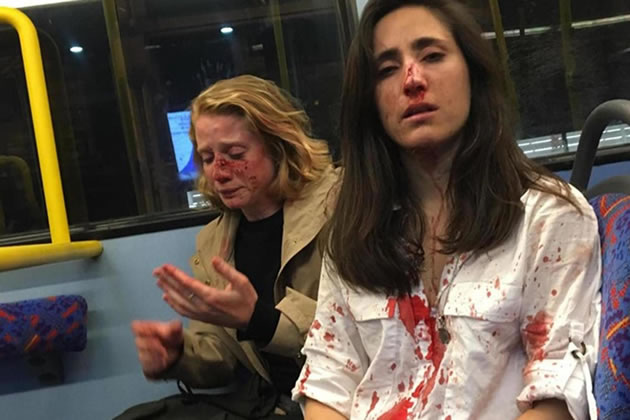 Melania Geymonat (right) and her date Chris were attacked in 2019. Picture: Melania Geymonat
Reports of homophobic attacks in London rose to a 10-year high this summer in "alarming and depressing figures," it was disclosed on Thursday (14 October).
Nearly 400 offences were recorded by the Metropolitan Police in June alone in the worst month on record for anti-LGBTQ+ hate crimes in London, with data going back to April 2011.
Among the 399 recorded were 52 attacks targeting transgender people, again the highest number on record.
Labour Assembly member Unmesh Desai is expected to ask the Mayor at City Hall today what work is being undertaken to reverse the trend.
Mr Desai, who represents the GLA City and East constituency, said the figures were "alarming and depressing".
He told the Standard: "The LGBTQ+ community in east London need reassurances that all the necessary measures are being taken to protect them from abuse and violence and that they can feel confident in coming forward reporting hate crime incidents to the police."
Transphobic hate crimes also remained high between July and September, with a further 119 attacks recorded. Westminster saw the most homophobic hate crimes in the past decade, with 2,238 offences.
Robbie de Santos, director of communications and external affairs for LGBTQ+ charity Stonewall, said the increase in hate crimes is "deeply concerning" but warned the actual number was likely far higher with four in five offences not reported.
Research from Stonewall found that up to 81 per cent of LGBTQ+ people who have experienced hate crimes do not report them, with younger people showing greater reluctance.
Mr de Santos said:, "All lesbian, gay, bi, trans and queer people deserve to live our lives free from fear, and these figures must be a wake-up call for addressing LGBTQ+ hate crimes."
In the 12 months leading up to September this year, the number of homophobic attacks in London increased by almost five per cent compared to the previous 12 months.
Sadiq Khan is expected to outline steps being taken to tackle homophobic hate crime in London during Mayor's Question Time at City Hall.

Joe Talora - Local Democracy Reporter

October 24, 2021