Sadiq Khan cuts the ribbon at official opening of the modern, eco-friendly building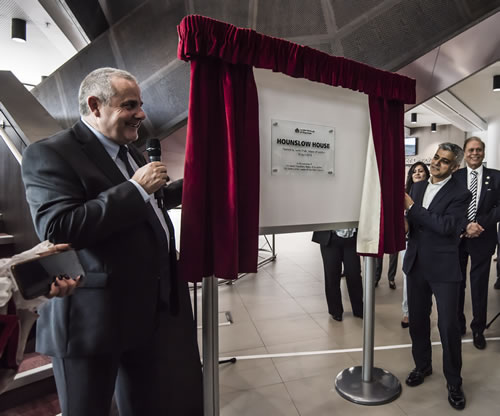 The Mayor of London, Sadiq Khan, this week (Tuesday 30 April) officially opened Hounslow House, the multi-million pound new council HQ, following the release of the old Civic Centre site for housing.
Hounslow House, a six-floor building with a striking steel exterior, is the heart of the town centre, is a smaller, modern and more energy-efficient building with a community focus.
The new council HQ has improved green credentials, with an improved energy rating, and solar panels. There is no car park for either staff, visitors or councillors,to encourage less car use. In future, council meetings will be held in a Civic Suite on the sixth floor, which can also double up for community meetings.
The old Civic Centre in Lampton road now contains 160 houses, with another 750 to follow. Funding for the new centre comes from a variety of sources, including the housing project and GLA grant.
The new council HQ has improved green credentials, with an improved energy rating, solar panels. There is no car park for either staff, visitors or councillors,to encourage less car use.
There is a greater emphasis on technology and less on face to face interaction. More services are being digitised so residents can self-serve on a number of issues, from applying for something, paying for a service, reporting an issue or requesting an appointment or information.

The Council says: " New technology means that staff can work more efficiently, going out to meet clients instead of needing residents to come to the council for appointments, or to drop off forms or ask for information."

Hounslow Library has also moved to the new building, bringing it back to the town centre, in addition to adult education classrooms. Other partners include the NHS (Hounslow Clinical Commissioning Group) and the Metropolitan Police.

A Civic Suite on the sixth floor includes a modern Council Chamber, which can also be used as community or event space.

Councillor Steve Curran, Leader of Hounslow Council, said: "Hounslow House is a landmark building that will revitalise the western end of the High Street and give a real boost to the town centre. It also supports the creation of one of west London's most vibrant retail, leisure and culture centres through the wider Hounslow town centre development.

"I was delighted to welcome Sadiq Khan, Mayor of London to officially open our new offices today, we have already benefited from 160 new homes for residents at the former Civic Centre site, with a further 750 to follow. I am grateful to the Mayor who has given us additional funding to secure 50 per cent truly affordable homes.

"I would also like to thank our partners Bouygues and their development arm Linkcity, who have delivered Hounslow House and high-quality homes, in partnership with Notting Hill Genesis, one of London's leading housing associations".

The Mayor of London, Sadiq Khan, said: "I'm delighted to open Hounslow House officially. This is a fitting home for Hounslow Council's efforts to make life better for those who live, work, visit and study in the borough, and it's great news that a wide range of community groups and events will be able to call this new building home for years to come. The council should be congratulated for delivering this project as part of their ambitious plans to increase the delivery of much-needed genuinely affordable housing in this area."

Fabienne Viala, UK Country Director for Bouygues Construction, said: "This important project demonstrates the power of working together in delivering positive outcomes for local communities. The result of collaboration between our Group companies Linkcity and Bouygues UK and wider partners including Hounslow Council, the GLA and Notting Hill Housing Group, this scheme is already making a real difference to local people.

"As well as providing a modern and efficient workplace for the council, police and health services to continue delivering vital services to the community, it is also freeing up space for over 900 much-needed new homes, including affordable housing. It's great to see this striking building opened and we look forward to working with our valued partners on future projects."

The old Civic Centre in Lampton Road, Hounslow, was built in the late 1970's and was no longer fit for purpose, with high running costs. The Council says downsizing to a smaller building will also save money in the long term, as well as allowing the site to be used for housing for local residents.
They say that the digitisation of council services, making it easier to do business with the council online, whether from a computer, tablet or mobile phone, allows residents to choose when and how they contact the council, 24/7, and more services are being added all the time.

May 1, 2019