Team has delivered more than 8,000 food parcels across the borough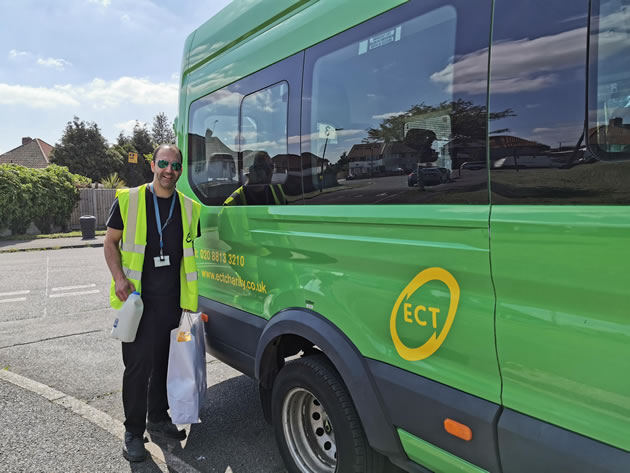 Ealing Councillor Bassam Mahfouz, helping deliver food parcels to local residents
Ealing Community Transport (ECT) has been hailed for saving lives in the borough due to its efforts to help vulnerable people during the coronavirus outbreak.
As the country went into lockdown back in March, ECT contacted local partners to ask them how they could be of assistance.

As it emerged that many vulnerable people were without vital supplies due to self-isolation, ECT was able swiftly to step up to the task of delivering food parcels across the borough.

Working early mornings, late nights and through the weekends, by the middle of this moth), their teams had delivered more than 8,000 food parcels – and counting.

The huge effort has been delivered in partnership with Ealing Together, a collaboration between local community and voluntary groups, Ealing Council, resident associations and concerned residents.
Council leaders have heaped thanks and praise on the team after seeing for themselves the huge operation under way to get essential food to thousands of the borough's most vulnerable people.

In a video message filmed by Ealing Council leader Julian Bell as he visited the food distribution centre next to ECT's headquarters in Greenford, west London, he praised ECT's delivery crews and the council staff who were packing up the food parcels.

"Every day there are about 200 food parcels that go out. They have fresh bread, eggs and milk and other vital food supplies," he said. "I really want to make a heartfelt thank you to them for what they are doing. All of those working with Ealing Community Transport and here at the food hub – there is no doubt that you are saving lives."

Bassam Mahfouz – Cabinet Member for Finance & Leisure – took the frontline involvement one step further last week, after he asked to join crews to help deliver food parcels to residents.

Sharing that it was also the fifteenth anniversary of his election as a councillor in Ealing, he told the ECT team as they gathered for their morning briefing: "I am amazingly proud to have Ealing Community Transport here in our borough. When it was time to step up, it was you who stepped up to deliver. These food drops can be a difference between life and death. It is an honour to be here to see and help a little."

After returning from his delivery round, Councillor Mahfouz commented: "It was incredibly rewarding going out on the minibus, and amazing to see such a smooth operation set up in such a short time. One resident said how incredibly grateful they were for support and for many of them this is proving to be a real lifeline."

Piotr Chodzko-Zajko, ECT's General Manager in Ealing, said the delivery teams were taking all appropriate safety precautions and also using the visits as an opportunity to check up on people's welfare.

He added: "The teams are doing late nights and early mornings, and we've been out on deliveries every weekend and over all four days during Easter. But at such a difficult time, it's wonderful to be involved in partnership with our colleagues at Ealing Council."

May 19, 2020