Charlie Canniff discovers a new passion in Chiswick's Strand-on-the Green
Related Links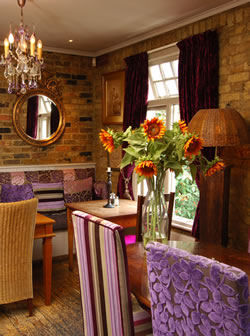 All About Annie - Emma Brophy meets the inspiration behind the neighbourhood institution.
Participate
Annie's is open 7 days a week from 10am to 10.30pm at
36 White Hart Lane, Barnes
Telephone 020 8878 2020
and at 162 Thames Road, Chiswick W4 Telephone 020 8994 9080
For further details see Annie's website.
Where have I been all Annie's life??? Tucked away behind the Thames at Strand on the Green, you'd be forgiven for not having heard of the place although it opened its doors back in 2003 and immediately became a huge hit with Chiswick diners.
A cosy unprepossessing exterior warmly invites you into an interior that made me consider exercising squatters rights. This establishment instantly made me feel at home, just not my home. The décor exudes sumptuous eclectic shabby chic in a manner that I've never achieved – our house oozes mismatched shabby.
When you learn of the proprietor's background the understated glamour is no surprise. Lorraine Angliss has enjoyed 25 years in the restaurant trade with a claim to opening Bill Wyman's Sticky Fingers.
My female colleague and I sat at a great secluded table enjoying fantastic views of the other diners. What better way to spend lunchtime than spying on unsuspecting food enthusiasts.
No disrespect to my company, but the table probably lent itself more to lovers. Annie's seems the sort of place you would visit for an occasion that you would always remember with nostalgia. Mind you, eating in such surroundings would probably make any visit an 'occasion'. Deep rich pinks, chandeliers, roses – it's all pretty romantic. But that shouldn't put men off, I saw (spied on) plenty of them and they appeared to be enjoying their surroundings!
And now to the food. The Annie's website describes the menu as British/ Mediterranean and didn't disappoint. My order was pretty straightforward –
Thai fishcakes with a sweet chilli dressing to start (£6.95), and Salad of Char Grilled Chicken, Oven Roasted Tomato, Red Onion, Pine nuts and Parmesan to follow (£12.95).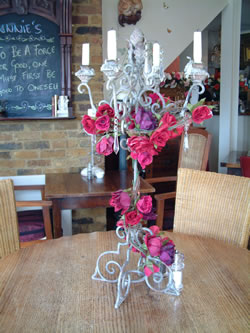 My companion, having on previous visits already tried pretty much everything on the menu, was more adventurous opting for the specials of babaganoush and beetroot salsa to start followed by the Red Bream. However, her final decision wasn't made before our very helpful waitress sought some advice from the chef on whether it would need an accompaniment and what that should be if it did. Not only did she quickly present us with all the facts, she offered tasters.
Tasting was also on offer as we deliberated over the wine menu, but that would just have been decadent. We settled on a bottle of £18.95 Merlot Reserva Aresti, Rio Clara (Chile), 2003, and writing off the afternoon.
The food arrived promptly, all so important at lunchtime, and I polished my fishcakes off pretty speedily too! When our waitress asked if we were enjoying the food, I nodded emphatically, without pausing to speak before forking in more.
The chicken in my salad was melt in the mouth whilst also providing me with the crispy skin that I usually steal before carving. It was perfect and since it was described on the menu as a 'salad' I was stripped of any guilt at eating a large lunch. Just don't mention the skin sins.
No room for desert. I'll save that for when I'm taken back here for a romantic evening out. Please… I sneaked a look at the similarly beautifully decorated dining area upstairs and I look forward to giving that a go one day. And then there's the table by the front window… You get the drift – I will eating here again.
Brunch, lunch and dinner are served seven days a week from 10.00am with different menus for each.

Charlie Canniff

February 21, 2006