Scheme described as discriminatory against Blue Badge holders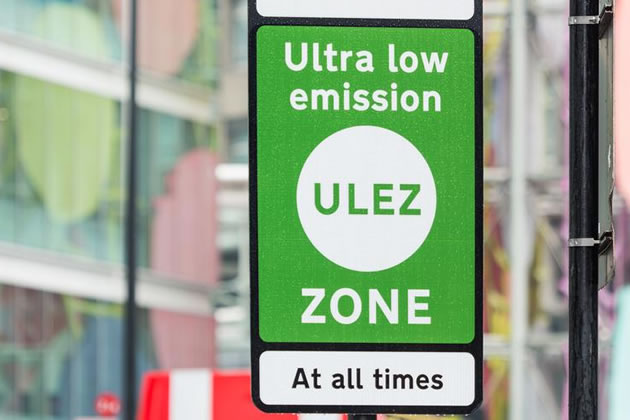 The ULEZ has been expanded to the North and South Circulars
Campaigners have called for Sadiq Khan to grant an exemption for Blue Badge holders who are liable for the daily charge to drive in the expanded Ultra-Low Emission Zone.
As of Monday (25 October), the ULEZ has been expanded to cover the areas up to but not including the north and south circular roads.
Disability groups said that the £12.50 daily charge for cars will have a "brutal impact" on thousands of disabled motorists.
There are almost 250,000 Blue Badge holders within London, though it is unclear how many would be liable to pay the ULEZ charge.
Drivers only have to pay the charge if their vehicle does not meet minimum emissions standards. Typically, this includes petrol cars made before 2006 and diesel cars made before 2015.
Currently, there are plans to grant exemptions to Blue Badge holders only if their vehicle is tax classified as disabled, which applies to those on higher levels of benefits.
Kush Kanodia, a disability rights activist and ambassador for Disability Rights UK, who is leading the campaign for exemption, said, "We believe that ULEZ will have a brutal impact and a discriminatory impact upon approximately a quarter of a million disabled Blue Badge holders in London when it is implemented.
"It amounts to a death by a thousand cuts for some disabled people. We've had cuts to Universal Credit, we've had increasing gas, petrol and food prices. We've got the rising cost of living, we've got increasing taxes in relation to National Insurance, we've got a lack of access to goods and services. No one is looking at the cumulative impact in relation to what is currently happening to disabled people."
City Hall estimates that around four out of five cars within the expanded zone meet the minimum emission requirements and will therefore not be liable for the charge.
A spokesperson for the Mayor of London said, "The Mayor and TfL considered the impact of ULEZ expansion on disabled and older people, including Blue Badge holders, in the Integrated Impact Assessment and in consultation for the scheme. On balance, it was agreed that the availability of affordable compliant vehicles, along with the support offered through the Mayor's scrappage scheme, provided a better alternative than exempting all vehicles used by London's 245,000 Blue Badge holders, which would lead to an unacceptable number of non-compliant, polluting vehicles being used in London for longer."

Joe Talora - Local Democracy Reporter

October 26, 2021