Opposition candidates say choice is broader than Labour or Conservative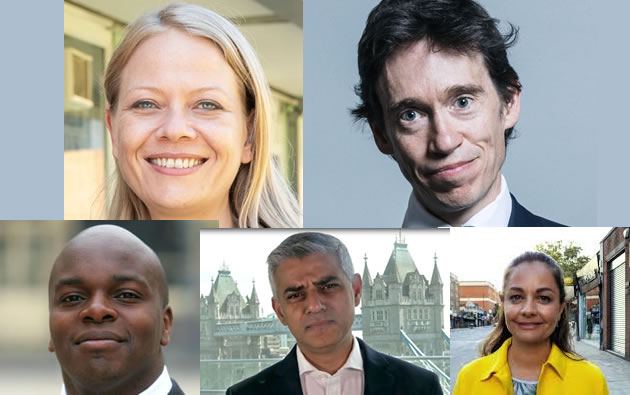 Clockwise from top left: Sian Berry - Green, Rory Stewart, Siobhan Benita - Lib Dem, Sadiq Khan, Shaun Bailey - Conservative
With just a few months until London elects its next mayor, opposition candidates have roundly rejected claims that the election will be a straight fight between Labour and the Conservatives.
Current mayor Sadiq Khan said last week that the vote will be "a two horse race" between him and Tory candidate Shaun Bailey.
Despite seeing his personal ratings tumble last summer, Mr Khan is the clear frontrunner, with a 12 point lead on Mr Bailey in the latest poll.
London's Labour mayor looked set to win 45 per cent of votes, according to the YouGov and Queen Mary University poll, conducted before the General Election.
Mr Bailey was then trailing on 23 per cent, with a clear margin between him and the other opposition candidates.
But now independent challenger Rory Stewart, Liberal Democrat Siobhan Benita and Green Sian Berry say there's still everything to play for.
Meanwhile the 'second horse', Mr Bailey, claims he's the "street fighter" candidate who can beat the Mayor.
Speaking to the Local Democracy Service, the Conservative assembly member said he would offer a "working class manifesto", drawing on his London roots.
Mr Bailey has been homeless and unemployed in the past, and says he has built "radical" policies "from the street up".
He said: "I'm the change candidate. I'm not a career politician. I'm someone who knows what it's like to struggle in London."
He added: "A lot of talk about this city is very highfalutin. It's often a tale of two towns. But I'm speaking for people who are just scraping by."
Mr Bailey dismissed claims that the Conservatives are not the party of the working class as "simply untrue".
He said growing up as "a poor black Londoner" gave him a different perspective.
And he is confident he can make up ground on the Mayor – despite trailing more than 20 points in the latest poll.
Mr Bailey said: "The width of margin is traditional. He's the incumbent mayor who's spent a lot of money making himself himself famous."
But former Conservative Rory Stewart said the idea of a 'two horse race' pedalled by the leading candidates was a fallacy.
He said: "People are fed up of this kind of party politicking.
"It's very old-fashioned to think voters want to tie themselves into old tired choices between two political parties."
Mr Stewart claimed there was a "hidden compliment" in Sadiq Khan's dismissal of other candidates behind second place.
The former Tory minister came third in the last voter survey, polling 13 per cent.
He said the Mayor's comments show he is seen as a viable challenger.
He said: "Sadiq wants to use this narrative to reduce a perceived threat.
"But we're beginning to develop quite a lot of momentum, and people are responding positively on the doorstep."
He added: "It's really the last two or three months in a campaign like this that make the difference.
"British politics is ready for an independent."
But Mr Stewart's analysis of the mayoral race also sparked controversy.
Liberal Democrat Siobhan Benita said Sadiq Khan's "hidden compliment" could just as easily show she is a threat.
She said: "I don't see why that would be more of a veiled compliment to Rory than to me.
"But if he's saying that he's clearly nervous about the other candidates."
The former independent said it was "incredibly presumptuous" to dismiss other parties ahead of the vote.
She said: "It's always the Labour tactic to say it's them against the Conservatives.
"They think that will play well – but that just won't be the case in this election."
Ms Benita, who was on eight per cent before the General Election, said traditional party divides "don't stack up" in the wake of a disruptive national result.
She said the Liberal Democrat vote share increased more than any other party in the capital, and voters were looking for a "progressive" candidate.
Green Sian Berry was also positive about her chances, despite polling just seven per cent in the last voter survey.
She said describing the election as a 'two horse race' was "very generous to Shaun Bailey".
Ms Berry said: "If Sadiq is trying to emphasise the weakest candidate he's going about it the right way.
"I think he's worried about me or Rory Stewart."
She said there were "an awful lot of people" chasing second place, and described the 16 point gap between her and Mr Bailey as "not far off the margin of error".
Ms Berry, who is co-leader of the Green Party, said there was "huge evidence" that environmental policies resonate with voters.
She said: "Imagine the difference it could make just to have one Green mayor in our biggest city.
"We have this chance to make a change in an election that's happening in a few months. I think people re really keen to do that."


Jessie Matthewson - Local Democracy Reporter

January 6, 2020