As Hounslow Council makes changes to recycling in the borough
Hounslow Council is closing off the Space Waye recycling centre to local residents during weekdays until the summer of 2017.
The centre in Feltham will close on Monday 3 October and when it reopens from November it will then only be accessible at weekends. Trade waste will be allowed at the centre on weekdays.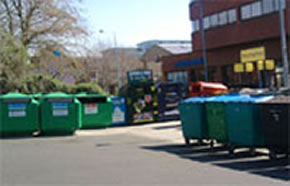 The decision to temporarily close the site comes about following a delay to the new Materials Handling Facility being built at Southall Lane, which is due to open in mid-2017. When this opens it is expected that Space Waye will once again be available during the week to the public. During the week, Space Waye will be used to deposit the recyclable materials collected by Recycle 360, the council's new recycling contractor. For health and safety reasons, members of the public will not be able to use the site during these operations.
When the centre reopens on November 4th, it will only be available to local residents for weekend use, although the hours are extended. At present the public can use the recycling centre from 8-4 every day of the week. You can find out more at the Council's website .
The Council said this change is for health and safety reasons because contractors will be on site during the weekdays. During the week the centre will be used to deposit the recyclable materials collected by Recycle 360 the new recycling contractor.
Weekend opening hours for residents will be extended once Space Waye reopens in November:
• Saturdays 8am-6pm
• Sundays 8am-6pm
The Council says that the closure of Space Waye will allow the site to be remodelled to accommodate the borough's new recycling vehicles. Improvements include precast concrete retaining walls and improved lighting.
Those paying to use the site to deposit trade waste will only be able to use it on Mondays to Fridays.
The council will also be investigating options for the permanent re-development of Space Waye, to improve accessibility and health and safety at the site. Engineers will report back to councillors with costed options next year.
Councillor Amrit Mann, Deputy Leader of Hounslow Council, said: "The decision to temporarily close Space Waye isn't one that has been taken lightly – there really wasn't any other suitable option available to us for depositing the borough's recyclable waste.
"We have chosen this time of year as demand at Space Waye is lower than it is during summer months. We strongly recommend that residents use their nearest alternative civic amenity site – we have full details on our website: www.hounslow.gov.uk/space_waye.
"While we have to limit when residents can use the site to just the weekend, I have asked officers to extend the opening hours to try and manage any queues.
"This is the first step to a wave of changes to recycling and waste which will see us increase how much we recycle and reduce waste sent to harmful and increasingly expensive landfill sites. I ask residents to please bear with us during this important time."
While Space Waye is closed, residents can use alternative sites within the West London Waste Authority Area. Use of these sites is free when showing proof of address (Council Tax bill or recently dated utility bill) and proof of ID. The nearest sites for Hounslow residents are:
Townmead Road Reuse and Recycling Centre, Townmead Road, Kew, TW9 4EL
Greenford Road Re-use and Recycling Centre, Greenford, UB6 9AP.
Charges may apply when using other sites.
August 12, 2016