Ravenscourt Dental Practice's Dr Hitesh Batavia explains connection in his latest column
In his third column, Dr Batavia highlights how having a healthy mouth has a positive impact on your overall health, including that all important organ in your body – your heart!

A Floss a Day keeps the Decay Away….

…..and keeps you kissable! Flossing can dramatically improve the health of your gums by removing plaque build up between the teeth and at the base of teeth near the gum line. This also keeps your mouth fresh …
Keep your heart in good shape
A healthy, happy heart depends greatly on your overall health, and your teeth and gums play a large part in this. So how does this work?

Research has shown that looking after your oral health also contributes to a healthy heart. For example if gum disease is left untreated and unchecked, it can lead to an excess of bacteria in your blood.
Recent studies have concluded that:
· Inflammation in the body, including in the mouth and gums, has an important role in the build up of clogged arteries, which can lead to a heart attack.

· People who fail to brush their teeth twice a day are putting themselves at risk of heart disease. Furthermore those with poor oral hygiene also tested positive in blood samples for proteins which are suggestive of inflammation.

· Paying attention to your dental hygiene and health, especially your gums, may pay you back with more than a gleaming, healthy smile and manageable dental bills. It may keep your heart healthy too.

· Gingivitis (the early stages of gum disease) occurs when gums become inflamed and bacteria invade the tissues.


A Healthy Lifestyle Always Helps
There are of course other well known risk factors for heart disease, such as smoking and poor diet. So if you would like to improve your overall health and avoid heart disease, then leading a healthy lifestyle would be beneficial. What's more, a sensible oral regime involving brushing and flossing twice a day results in a multitude of benefits for your whole body, including your heart.

An Offer for You!
From Monday February 24 till Friday 14th March, Dr Batavia is offering two half-price appointments every week. Please call the surgery on 0208 748 4023 before 10am on a Monday morning and quote "Hammersmith 24th February ", to book your appointment.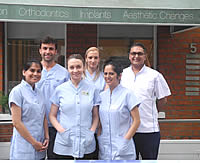 Ravenscourt Dental Practice, 5 Ravenscourt Avenue, London W6 0SL. Tel: 020 8748 4023
Email: team@rdpholistic.co.uk, www.rdpholistic.co.uk
February 19, 2014