Says that South Western Railway could receive millions for lost revenue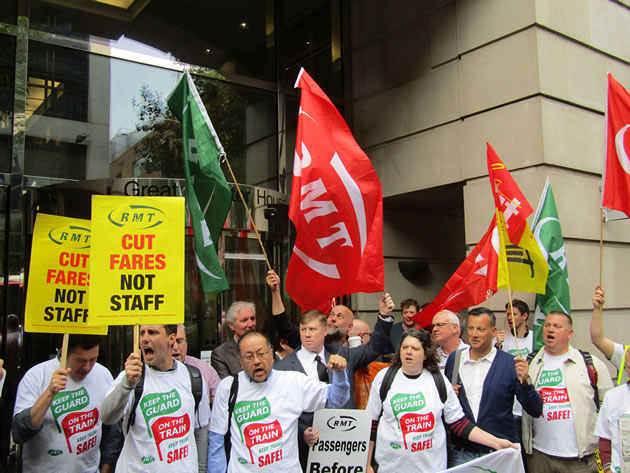 RMT members demonstrate outside the Department of Transport
The RMT Union which is currently holding a series of strikes on the South Western Railway network has labelled an application by the operator for compensation for lost revenue as a 'grotesque spectacle'.
The next strike is scheduled to affect local stations such as Putney, Brentford, Wandsworth Town and Chiswick this Saturday 8 September.
Parliamentary answers provided by the Rail Minister Jo Johnson have revealed the company has applied to the government to be reimbursed for revenues they have lost as a result of not being able to run trains on strike days. The minister has said that no payments have yet been made as the application is still being assessed.
The RMT say that lost revenue per day when there is a strike would normally be around £3.5 million and combined with similar compensation that might be paid to Northern Rail, another network on which the RMT are striking, the cost to the taxpayer of the industrial action could be tens of millions of pounds.

RMT General Secretary Mick Cash said, "That is a national scandal when guards are taking action to defend safety, access and security on our railways.

"This actually means that these rail companies will be getting paid tens of millions by the tax payer for trains that are not running. This is truly shocking in itself but also an absolute kick in the teeth for passengers when these eye watering sums could instead be spent on improving services and cutting fares.

"There is no excuse whatsoever for these companies to be throwing guards off their trains in a dash to pump up their profits.

"And in a new low for Chris Grayling we now have the grotesque spectacle of the British Government paying German and Hong Kong owned rail companies to wage war on rail workers who are seeking to save decent safety critical jobs and the principle of a secure and accessible railway for all."
The union claim that safety is compromised unless there is an absolute guarantee of a guard on all trains. South Western Railway say that they will roster guards on all services but that trains should be allowed to run in the event of one not being available. They argue that there is no evidence of any greater risk with a driver only operated train.

September 4, 2018