South West Trains least punctual, most overcrowded London operator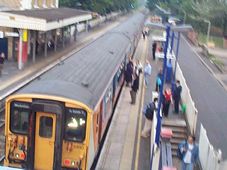 Local passengers have got official confirmation of something they probably knew already - local trains run consistently late and are extremely over crowded.
A new report from the SRA shows that South West Trains have once again produced the most tardy service. One in four trains is delayed by more than five minutes and it is even worse at peak times. The company was fined more the £10 million during the year because of the late operation of their trains. Full details of the figures are given below. South West Trains have not responded to a request for comment on the numbers. Passengers on Silverlink faired much better with the operator providing London's most punctual service for peak time trains over the year to March 2004.
The news for South West Trains users was not much better on over-crowding. During the morning peak the trains operated at an average of over 7.4% over-capacity the worst of any London operator in 2003. This fell to 2.8% in the afternoon peak but this was still above any other network. Silverlink which had been the most over-crowded network in 2002 saw a significant decrease but remained the second worst London network.
South West Trains also performed poorly in terms of handling complaints. Their complaint handling procedure allows them 15 days to respond compared to 10 days for most other London networks but in the latest quarter they only answered 65% of complaints on time - the worst performance of any London network.
Such tardiness was also evident when we contacted South West Trains to ask them to clarify the situation with the Hounslow Loop service. They have announced their intention to no longer stop the fast running services at Putney station but have claimed in letters to customers that frequency on the Hounslow loop service will be increased to compensate. The train operator has not responded to our request for more details of their plans for this service. One local councillor, we spoke to on the subject said that he had been campaigning for an increase in frequency on that line for a long time and the bottleneck at Waterloo made it unlikely that more trains would run on this line.
SRA Chairman, Richard Bowker said: "Passengers can feel reassured at the record level of investment in Britain's Railway over the past year. They will now want to see the industry redoubling its efforts to ensure that the performance of the railway fully reflects this unprecedented level of support."
Public Performance Measure by train operating company
Percentage of trains arriving on time 2003-04 Q4
2003 - 04 Q4
2002 - 03 Q4
Year to 31 March 2004
Year to 31 Dec 2003
London and SE operators All day
c2c
88.0
91.2
85.9
86.7
Chiltern Railways
91.5
90.7
90.9
90.7
First Great Eastern
88.6
87.8
87.5
87.3
Silverlink
81.8
84.1
81.5
82.1
South Central
80.4
75.9
80.1
79.0
South West Trains
74.0
72.2
74.5
74.0
Thames Trains
85.5
79.2
79.1
77.5
Thameslink
77.8
72.1
74.0
72.5
West Anglia Great Northern
86.2
80.5
83.8
82.3
Sector Level
82.0
79.1
80.3
79.6
London and SE operators Peak
c2c
85.8
89.5
85.5
86.4
Chiltern Railways
86.6
87.7
88.1
88.3
First Great Eastern
85.6
82.5
85.4
84.6
Silverlink
85.8
85.5
86.7
86.6
South Central
75.2
72.4
77.3
76.6
South West Trains
69.6
67.5
73.1
72.6
Thames Trains
81.0
65.0
74.1
71.1
Thameslink
70.8
73.9
68.4
66.9
West Anglia Great Northern
83.2
79.1
74.6
77.1
Sector Level
77.3
82.1
77.9
77.0
July 2, 2004