Crossrail to go for Turnham Green option
Massive underground tunnel planned linking Chiswick to hi-speed rail-link
Crossrail have announced plans to build a tunnel under West London to link to a service to Kingston. It would mean that Crossrail would stop at a proposed new station at Turnham Green, rather than Chiswick Park station, to provide an interchange with the London Underground services.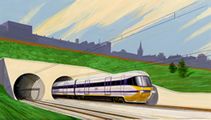 Originally Crossrail had considered two options for this spur of the project. The option that would have seen an overland link through Acton was rejected due to the conflicts it would have created at existing junctions such as the ones at Churchfield Road and Bollo Lane. The chosen option requires the building of a 5.7km tunnel in what will be one of the largest ever infrastructure projects in London.
Head of Transport at Hounslow Council, Chris Calvi-Freeman felt that the proposals would be hotly debated locally but said, "if the tunnel is going to come up at or extend under Chiswick Common there should be a station at Turnham Green, as it would be well placed to serve local commuters and would also allow interchange between the District and Piccadilly Lines, presuming TfL could be persuaded to also stop Piccadilly Line trains there."

According to a spokesman for Crossrail they will be negotiating with TfL to arrange that a Piccadilly line stop is introduced at Turnham Green to allow passengers to interchange with that line.

Norman Haste, Chief Executive of Cross London Rail Links, the company tasked to develop the project commented: "The reason for agreeing the tunnel option for the line going to Kingston, is that this will save journey times from Paddington."
New Planned Route for Crossrail
(New lines in red)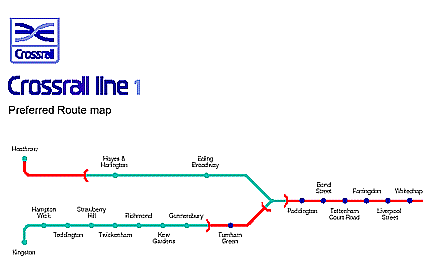 A route diagram reflecting this change is available on the Crossrail web site www.crossrail.co.uk.
'Crossrail - The Vision' leaflets have been given out to commuters at stations along the preferred route, explaining what Crossrail is about and inviting people to phone or write in with comments.
The project now moves into a more concentrated phase of public consultation after Crossrail distributed leaflets to commuters and in Council Offices. A spokesman for Crossrail said that information kiosks will be set up in or near affected tube stations including Turnham Green and a letter will be sent to all properties directly affected by the project.
There is a 24 hour seven day a week helpline on 0845 602 3813 and an e-mail address helpdesk@crossrail.co.uk as well as a web site www.crossrail.co.uk which contains background information.
October 10, 2003