Details of rezoning of collection dates in the borough
Related Links

Search Facility
To find out your new collection day, select your street and town. The new day will appear in the box on the right.
Domestic rubbish collection days are set to change from June, as Hounslow Council introduces a new zone-based scheme across the borough.
Rubbish in Chiswick will now be collected on Wednesdays and Brentford collections will be either on Tuesday or Wednesday. Note these changes do not apply to you if you live in Ealing Borough.
The new system is being implemented in order to streamline refuse collection and bring it in line with recycling services. This means that the majority of residents will only have to remember one collection day for their household rubbish, Green Box recycling and garden waste.
The changes, which come into effect from Monday 14 June 2004, include carrying out street sweeping and litter-picking on the day after rubbish collection, with the aim of improving the cleanliness of the street scene.
Suresh Kamath, Hounslow's Director of Street Management, said: "We're bringing in these changes to make things easier for residents, as the majority will now only have to remember one day for all their waste collections.
Mr Kamath continued: "Although the creation of five new zones will mean a change in the majority of residents' rubbish collection days, in most cases recycling and garden waste collection days will remain the same.
"This is a major undertaking, affecting the entire borough, but we need residents to play their part to make it work by making sure they know their new collection day.".
For any queries regarding refuse collection, contact Environmental Services on 020 8583 5000 or email cleansingservices@ hounslow.gov.uk
To enquire about revised refuse collection days in Ealing Borough contact environmental services. Email: refuse@ealing.gov.uk
Map of changes in this area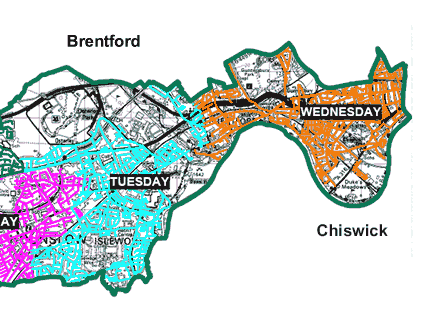 June 9, 2004