Local authorities united against expansion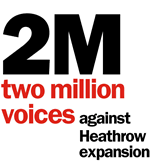 A group of local authorities which won a 2010 High Court challenge to overturn the previous government's Heathrow policy say the evidence against a third runway is as strong today as it was two years ago.
Council leaders from the all-party 2M Group which opposes Heathrow expansion said today that nothing had changed in the last two years that made a third runway or the imposition of mixed mode operations any less damaging to noise, air quality and traffic congestion in south and west London.
The Government said today in its draft aviation policy framework that its opposition to a third runway continued to be determined in large part by concern about noise impacts at the airport. It restated its decision to cancel plans for a third runway and said that it would be inviting evidence later this year on maintaining the UK's international connectivity. It said it wanted stakeholders to consider the 'big picture' before putting forward any proposals for new capacity.
Wandsworth leader Ravi Govindia said: "The Coalition Government continues to rule out a third runway for very good reasons. It has done so again today. The noise will get worse on both sides of the airport, air pollution will continue to breach EU levels and the tubes and trains just won't be able to cope. No amount of lobbying by BAA can change these facts. Expansion at Heathrow was a non starter in 2010 and is a non starter in 2012."
Hillingdon leader Ray Puddifoot said: "The Government confirmed today that it is committed to achieving full compliance with EU air quality standards. Any attempt to resurrect the previous expansion plans would lead straight back to the European courts. You simply can't set out to make air quality worse in a location that is already recording NO2 levels above EU limits and expect to get away with it. This was why the last government backed off introducing mixed mode as a stepping stone to a third runway. Whether it's 60,000 extra flights from mixed mode or 220,000 extra flights from a third runway the result is the same. There is no need to delay further consultation – the Heathrow position is clear, does not need to be reopened and need not hold up the wider considerations.
Hounslow leader Jagdish Sharma said: "The noise burden for our communities is already intolerable with recent studies showing that it affects our children's education and our health. We have to distinguish between what's good for BAA and what's right for our communities. The commercial benefits of expansion to the airport owner should not be allowed to outweigh the overwhelmingly damaging environmental consequences for our residents."
Richmond leader Lord True said: "Heathrow expansion is a huge quality of life issue in west London. We will resist any measure that might result in either a lifting of the current movements cap or relaxation of the night flying restrictions."
The 2M Group is an all-party alliance of 23 local authorities concerned at the environmental impact of Heathrow expansion on their communities. The group, which took its name from the 2 million residents of the original 12 authorities, now represents a combined population of 5 million people.
The full membership comprises the London boroughs of Brent, Camden, Ealing, Greenwich, Hammersmith and Fulham, Haringey, Harrow, Hillingdon, Hounslow, Islington, Kensington and Chelsea, Kingston, Lambeth, Lewisham, Merton, Richmond, Sutton, Southwark and Wandsworth and Reading, Windsor and Maidenhead, Wycombe and South Bucks District Council.
July 16, 2012