"I suspect this ruling has brought a Heathrow night flight ban a step closer"
The campaigners at Frankfurt Airport have won a night flight ban after the German courts today ruled in their favour. Flights will be banned from 11pm until 5am. It is thought the ruling could have implications for night flights at other European airports. Both Charles de Gaulle and Schiphol airports, where flights operate through the night, have been watching the ruling closely.
The German decision could also influence the situation at Heathrow where the Government will begin consulting later this year on plans for a new night flight regime after the current agreement with the airlines runs out in 2014. At present, no night flights are allowed at Heathrow between 11.30pm and about 4.15am but the Government is under pressure to introduce a ban from 11pm until 6am.
John Stewart, Chair of HACAN, which represents residents under the Heathrow flight paths, said: "This is a very significant ruling which could have implications for airports across Europe, including Heathrow, Stansted and Gatwick. Critically, the German court rejected arguments by Lufthanza that its business would be damaged by a night flight ban. This is the same argument that has been made by BAA and British Airways to justify night flights at Heathrow. I suspect this ruling has brought a Heathrow night flight ban a step closer".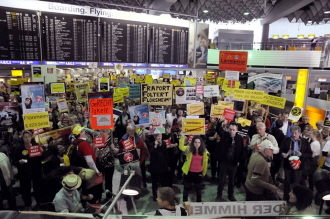 The night ban at Frankfurt is only one of the demands of the German protesters, thousands of whom occupy the airport terminal every Monday night (pictured above, courtesy Lärmfurt). They are objecting about the impact of the 4th runway which was opened in October. The night flight ban will apply to all the airport's runways.
April 5, 2012