Campaigners look to EU on night flights

HACAN urges lobbying of European Parliament to reduce noise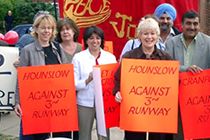 A Europe-wide campaign to ban night flights at all European airports has been launched. This action was the outcome from the Noise Conference in Brussels held in November last year at which more than 200 delegates participated.
Five MEPs from across Europe (including Dr Caroline Lucas, the Green MEP for Southeast England), are sponsoring a Written Declaration to be presented to the European Parliament in April calling for a ban on night flights at all European airports between 11pm and 7am. If the Written Declaration can get 318 MEPs from across Europe to sign it, a ban on night flights effectively becomes the policy of the European Parliament.
The delegates from that conference are lobbying their MEPs and encouraging those communities who are affected by night flights to do the same. The following is a list of names and addresses that HACAN suggest you send your letters to: John Bowis, Dr Charles Tannock, Ian Twinn, Theresa Villers (all Conservative) Richard Balfe, Robert Evans, Mrs Mary Honeyball, Claude Moraes (all Labour) Baroness Sarah Ludford (Lib Dem) Jean Lambert (Green)

HACAN suggest that you ask them to sign up to the Written Declaration on noise from airports, sponsored by Hiltrud Beyer, Alexander de Roo, Marie Anne Isler Bedguin, Paul Lannoye and Caroline Lucas.
HACAN suggest writing before the end of March to: European Parliament, rue Wiertz,
B-1047, Brussels, Belgium (38p stamp) or email them:
jbowis@europarl.eu.int; ctannock@europarl.eu.int; itwinn@europarl.eu.int; tvilliers@conservatives.com; rbalfe@honeyden.fsnet.co.uk; robertevansmep@btclick.com; mhoneyball@europarl.eu.int; cmoraes@europarl.fsnet.co.uk; sludfordmep@cix.co.uk;
jelambert@europarl.eu.int;
March 8, 2004