No new runway - not yet, anyway
White Paper keeps expansion options open
There'll be no new runway at Heathrow. At least, not until 2015 at least. But there might be a sixth terminal and a congestion charge. These were some of the conclusions of the White Paper released by the government on the future of air travel in the UK.
At the same time it was announced that efforts will be made to maximise runway usage at Heathrow, which could mean an end to the agreement which ensures that each of the two runways is used for either landings or takeoffs. This would add to the noise levels endured by communities on both sides of the airport.
Expansion at Heathrow will only be allowed if a number of environmental conditions are met. These include a guarantee that there would be no increase in the area affected by aircraft noise around the airport. Additionally, the airport will also have to put pressure on airlines to improve technology, and use clean fuel in its service vehicles.
The document also proposes charging passengers for driving to the airport in an effort to curb car pollution.
The hope is that these measures will keep Heathrow within tougher new EU pollution levels due to come into force in 2010. Rather suspiciously, the government has "reviewed" the methodology it has used for assessing whether Heathrow can meet these limits.
Wandsworth Council leader Edward Lister reacted to the White Paper by saying that a third runway at Heathrow should have been ruled out completely. He added, "Life under the Heathrow flight paths is going to get a lot noisier with or without the extra runway. It looks now as if ministers are prepared to scrap runway alternation at Heathrow. They are paving the way for an extra 20,000 flights a year at Heathrow bringing the total number way above the 480,0000 limit accepted by the Government following the Terminal Five inquiry."
Wandsworth Council are part of a group of six Councils who are threatening to force a judicial review of the White Paper claiming that the Government failed to give proper consideration to other options in the Thames Gateway such as Thames Reach and Sheppey during the consultation.
Cllr Ruth Cadbury, Hounslow Council's Executive Member with responsibility for transport, said: "The residents of Hounslow were looking for clear direction from the Government. However, Alistair Darling has just created more uncertainty for them."
She said that independent research proves that Heathrow is already breaking EU pollution limits and that the airline industry would be unlikely to be able to make sufficient improvements by 2015. Cllr Cadbury also stressed that the danger had risen of runway alteration ending. She claimed that as well as increasing noise this could compromise safety, "Runway alternation is crucially important to the local residents living alongside the airport, as it offers several hours' respite each day from the excessive noise from aircraft – which can be one every 60 seconds at peak times. Despite having advanced technology, I have serious safety concerns over congested runways, with one plane landing as another takes off."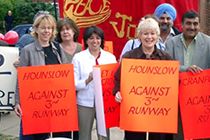 Ann Keen MP for Brentford and Isleworth, who had recently presented a petition against the third runway to Number 10 said: "I would like to take this opportunity to thank everyone who contributed to the consultation and signed the petition. The Secretary of State, Alistair Darling has listened to my campaign and, in his response to my question in the House of Commons, acknowledged the environmental impact the airport has on local schools and hospitals. I am delighted that we have secured soundproofing for local schools and the Secretary of State has agreed to meet with me to discuss this serious issue in more detail."
Stansted airport will be the first to see expansion, with work expected to start soon on a new runway - although this faces extensive legal challenges by local protest groups.
December 16, 2003