Had been caught by 'most prolific' speed camera on Gunnersbury Avenue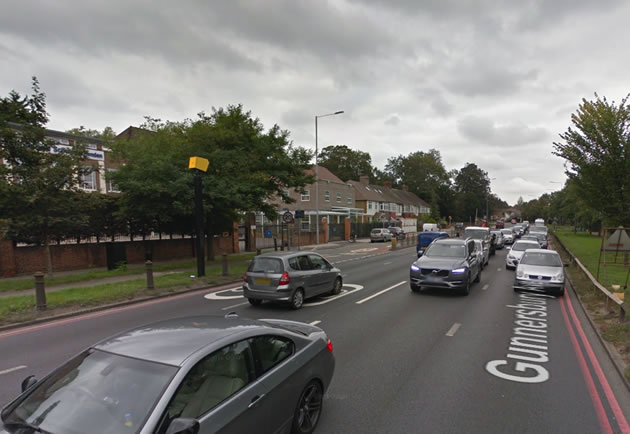 The camera on the North Circular (A406). Picture: Google Street View
Motorists who have gone to court after receiving fines after being caught exceeding the temporary speed limit on Gunnersbury Avenue north of Chiswick Roundabout have been cleared. Magistrates have supported their argument that the road signs in the area were confusing and found defendants not guilty or given them an absolute discharge if they have pleaded guilty. The RAC is now calling on the police and Transport for London to review all penalties given at this location.
The camera near the International School of London quickly became London's highest generator of revenue when it was installed last year. It is believed that over £1,000,000 worth of fines have been issued since it started operation. Motorists complained that a change in speed limits at the location was inadequately signed.
The Evening Standard reports that supply teacher Katy Giovannini from Bath was cleared at Lavender Hill magistrates court last week after representing herself. She told the Standard after the verdict that the 7,500 drivers fined before Transport for London improved the signage at the site should be reimbursed. She said, "I went in with a very matter-of-fact approach: because of misleading signage, the speed limit was questionable. That caused me to put my foot down and accelerate. I said, 'I'm not pleading guilty. I'm not a criminal. I'm a teacher.'
The Standard also reports on the case of Thomas Maieli who was caught twice in two days last May. He represented himself at a hearing and lost, but paid for legal representation for the second one on Tuesday last week. He pleaded guilty to avoid a trial and was given an absolute discharge.
The judgments were welcomed on Twitter by the local MP Ruth Cadbury who called on TfL to review fines issued at this location.
A series of Freedom of Information requests shows that 13,891 Notices of Intended Prosecution were sent out by the Metropolitan Police between April and September 2016 to drivers photographed exceeding the speed limit at the site.
The number of fines peaked in the first full month of operation in May when 4,768 were issued. This prompted a large number of complaints including one from local MP Ruth Cadbury and enforcement at the site was suspended after the first week of June for a review of the signage. Many motorists had complained it was inadequate. Although the site inspection deemed that the existing signage was compliant, on 15 July new signage was put in place and since that point the number of fines issued seems to have roughly halved.
In September Grand Tour presenter James May was caught by the camera just 10 minutes after taking delivery of a new Honda motorbike.
Nicholas Lyes, roads policy spokesman for the RAC said, "We would now hope TfL and the Metropolitan Police will work together to review all penalties issued during this period."
A Metropolitan police spokeswoman said that of the 39 cases heard this month, 26 had resulted in convictions, five were adjourned and eight dismissed. However, it is believed that some of the convictions would have been followed with an absolute discharge as in the case of Mr. Maieli.
Lilli Matson, TfL's head of strategy and outcome planning, said that the signs at the location advising of the reduction of the speed limit to 30 mph were checked and approved prior to its introduction.

January 24, 2017