Over a million pounds of fines issued in 5 months on Gunnersbury Avenue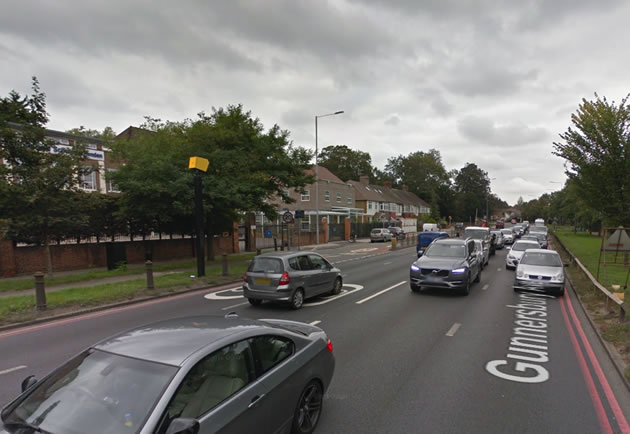 The camera on the North Circular (A406). Picture: Google Street View
The speed camera on the North Circular Road north of Chiswick Roundabout has generated over a million pounds worth of fines since it was installed last April.
The device on the road travelling in the direction of Ealing and Acton has been identified by the Evening Standard as London's most prolific speed camera with the paper claiming it accounts for a third of the speed fines issued in the capital. Anyone breaching the temporary 30mph speed restriction, put in place while work was taking place at the nearby Power Road Bridge, will have received a £100 fine plus three points on their licence.
The camera is on the stretch of road also known as Gunnersbury Avenue just outside the International School of London before the road reaches Gunnersbury Park northbound.
A series of Freedom of Information requests shows that 13,891 Notices of Intended Prosecution were sent out by the Metropolitan Police between April and September 2016 to drivers photographed exceeding the speed limit at the site. The Standard is quoting a figure of 14,544 up to the end of October.
The number of fines peaked in the first full month of operation in May when 4,768 were issued. This prompted a large number of complaints including one from local MP Ruth Cadbury and enforcement at the site was suspended after the first week of June for a review of the signage. Many motorists had complained it was inadequate. Although the site inspection deemed that the existing signage was compliant, on 15 July new signage was put in place and since that point the number of fines issued seems to have roughly halved. There is nothing to indicate that any appeals by motorists on the grounds of inadequate signage before the changes were successful.
In September Grand Tour presenter James May was caught by the camera just 10 minutes after taking delivery of a new Honda motorbike.
RAC roads policy spokesman Nicholas Lyes said, "It appears plain to see that motorists using west London's busiest commuter route through Chiswick have become the unwitting speed camera victims of a poorly signed temporary 30mph limit.
"The RAC cautions that where the normal speed limit is reduced temporarily for a reason such as roadworks then, to be fair and effective, that change and lower speed limit must be clearly signed and highlighted with additional warnings. Where a significant number of penalty tickets are being issued then that should automatically set off alarm bells and warrant investigation. In this instance, where the speed camera has been raising abnormally high revenues worthy of a successful medium-sized business, then something is wrong — which understandably has angered motorists and adds weight to the mistrust that cameras are often used simply to raise revenue."
A spokesperson for TfL told the Evening standard that the signage in the area was clear.

January 3, 2017