Residents fight back to end local spree
Residents who suffered months of severe disruption and anti social behaviour have been instrumental closing down the local crack house and bringing an end to a local crime spree.
The quality of life and daily routines of residents in Acton Lane and surrounding roads was disrupted by anti social behaviour, disturbances inside and outside the premises, noise nuisance from people coming and going from the flat at all times of the day and night and suspected drugs use from No 391b Acton Lane, W3.
Angry residents contacted the police and council over a period of time with detailed accounts of their experiences, observations and complaints in relation to the address. It was this information that also helped Police compile a map of crime allegations that occured within 500m of this property over this same period (see right).
Police were first asked to attend the address back in February 2006 following a routine welfare check by the Dominion Housing Group and recovered crack pipes and burnt tin foil from the address.
Though seven people, all well known to police for having convictions for drugs offences, robbery handling stolen goods and shoplifting, were present at the time of the raid, no arrests were made.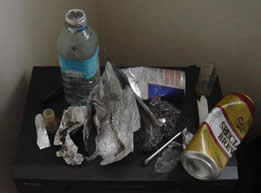 However, a quantity of drug paraphernalia, namely crack pipes, cellophane, foil wraps, which following forensic examination contained traces of the Class A Drugs, was seized. This property was used in the intelligence gathering process to enable Police to obtain the closure order.
On Tuesday 18th April 2006 at 3.00pm Ealing Borough Police executed a drugs search warrant at No 391b Acton Lane and served the registered tenant with a closure notice under the Anti Social Behaviour (ASB) Act 2003. Then at 6.00pm the following Thursday 20th April 2006, Ealing Borough Police returned to the premises with a notice from Ealing Magistrates granting them permission to service a closure notice on the premises.
Two adults were on the premises at the time the closure notice was served and were arrested for breaching the conditions outlined in the closure notice (issued two days earlier) stipulating that anyone other than the registered tenant or owner was prohibited from being on the premises. The registered tenant was not present at this time.
Michael Boothe, a 40 year old unemployed black male from Acton and Lyndsey Miles, a 23 year old unemployed white female were both charged on Thursday 20th April and appeared before Ealing Magistrates Court on Friday 21st April 2006. Boothe and Miles were both given a 6 month conditional discharge and fined £50 costs.
Contractors have now secured the premises against re-entry by any person or resident. Failure to comply with the closure order could lead to residents or unauthorised occupants of the premises receiving a fine or up to six months in prison.
Police Constable Tim Fines, Ealing Borough Police, said "Closing these types of premises and removing the resident or residents indefinitely is vitally important to people living in the local area, as it improves people's quality of life by helping to reduce crime and disorder in the area.
As ever, the positive outcome of this operation would not been possible without members of public providing Police with information and together with them we will make Ealing Borough a safer place. We will continue to work closely with our partners and community in the area to tackle drug activity and the criminal and anti-social behaviour that go with it and continue to enforce Part 1 of the Anti Social Behaviour (ASB) Act 2003 where necessary."

April 27, 2006