Ealing Borough Police would like to appeal for the help of the general public in the hope of finding Tyson, pictured below, which was stolen from his owner in Acton Park.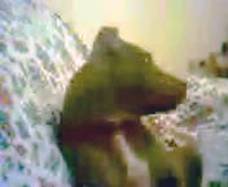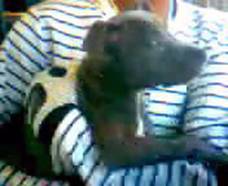 The offence took place in Acton Park at 1615hrs on Friday 8th July 2005.
The victim was walking his dog when he was approached by 3 suspects who engaged him in conversation about Tyson.
During the conversation Suspect 1 indicated that he had a Japanese Akita dog and invited the victim to the park. The victim declined and the suspects went on their way.
The three suspects then turned up a few minutes later with the Japanese Akita and again asked the victim to come to the park at which point the victim agreed.
Whilst at the park the suspect's dog and Tyson were left off their leads to run about in the park.
A short time later Suspect 1 then tied up his own dog grabbed the victim's and then ran off with the victim's dog. Suspect 2 and 3 took the Japanese Akita and ran off in a different direction.
The victim gave chase and caught up with the suspect 1 in the Bromyard Estate. The victim then noticed Suspect 2 and 3 were also in the area a short distance away.
The suspect then pulled a black handled silver bladed 10' knife on the suspect and indicated he was taking the dog. All 3 suspects then ran off in a direction unknown as the victim decided to contact police and not follow them because they were in possession of a knife.
Suspect 1: Black Male, approx 20yrs, 5'08", black hair, moustache, red hooded zip up top, dark tracksuit bottoms, possibly called Daniel with a tattoo on his arm with the name Tyrse.
Suspect 2: White male, approx 16-18yrs, 5'06", short brown hair, dark puffa style jacket, black scarf and dark jogging bottoms
Suspect 3: Black male, approx 16-18yrs, 5'06", with short dark hair.
Tyson, 7 months old, is a Staffordshire Irish Bull Terrier and is best described as being Blue/Charcoal grey in colour.
Tyson has a very unique tail. His tail is broken with very distinctive kink half way down the tail. It was possibly broken when he was younger and not reset properly.
Tyson has patches of brindle on his back, a white patch on his chest which continues along his chest to under his stomach and was last seen wearing black leather collar with studs and a red harness.
Tyson's owner, a local 16 year old who doesn't want to be named, said, "I am devastated by the loss of Tyson and I am desperate to get him home. I would appeal to anyone who may know of his whereabouts to contact the police."
Anyone with any information which could help the police investigation to contact the Ealing Borough Safer Street Unit based at Ealing Police Station on 0208-246-9145 quoting Crime Reference 2523499/05 or if you wish to remain anonymous please call Crimestoppers on 0800 555 111."
August 11th, 2005