The Park Club hosts anti racism football event
On Tuesday 12th July, The Park Club played host to an impressive line up of names from the worlds of football and politics at an event organized by Show Racism the Red Card and the Professional Footballers Association (PFA).

This event heralded the launch of the Show Racism the Red Card Video that features the some of the biggest names in the game today such as Rio Ferdinand, Jermain Defoe, Ashley Cole and Thierry Henri with Sven-Goran Eriksson, Damien Duff and Robbie Keane showing red cards.

A friendly match kicked off the day's events and ended with the PFA Leg Ends beating an All Parliamentary Team 5 – 1. Former Arsenal star Paul Davis scored twice, one of them a spectacular overhead kick. Bobby Barnes and John Beresford were also on the mark. Lib Dem John Leech MP managed to get one back to save Parliament from a total drubbing.
Fresh back from London's Olympic victory in Singapore, Minister for Sport, Richard Caborn said, "It was great to play in today's game and although we lost it really was a victory for everyone involved. Getting two sides together like this shows that the whole of the football world is united behind the campaign to Show Racism the Red Card."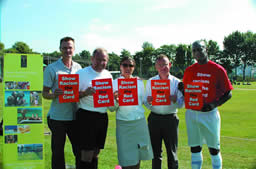 Show Racism the Red Card's Ged Grebby said, "This is the first match we've organised with ex-professional footballers. The campaign has great support from the Professional Footballers Association and this is another example of our organisations working together to fight racism in society."
The PFA team comprised of names such as Gary Bennett (ex Sunderland), Warren Barton (ex-Newcastle), Pete Smith (ex-Brighton), Paul Davis (ex-Arsenal), Bobby Barnes (ex-West Ham), Nick Cussack (ex-Fulham), Michael Bennett (ex-Charlton), Bob Bolder (ex-Liverpool), John Beresford (ex-Newcastle), and Luther Blissett (ex-Watford and A.C Milan). Ex-Tottenham and current media star Garth Crooks was in attendance to shout encouragement to his former foes from the sidelines.

Parliament's team featured MP Alan Keen alongside Jim Sheridan MP, Russell Brown MP, James Murphy MP, John Leech MP, Stephen Hepburn MP and Clive Betts MP.
The event culminated in a reception at The Houses of Parliament.

Show Racism the Red Card is an anti-racist charity established in 1996 whose aim is to use professional footballers as anti-racist role models and to combat racism through anti-racist education. The PFA's role is to represent the interests of the professional footballer within the infra-structure of the game and promote their good work externally.
July 12, 2005