Rain went unnoticed at celebrity cricket day
On Friday 1st July, The Park Club played host to an awesome line up of cricketing legends past and present who put aside their age-old rivalries to raise money for Operation Smile. The event marked the second of Operation Smile's annual Celebrity Charity Cricket Day and proved a huge success raising an incredible £90,000, a sum which will significantly change the lives of thousands of children.
The 'who's who' of cricket was out in force, many of whom brought their families. Andrew Strauss, Nasser Hussain and Mike Atherton to name but a few proved extremely popular with Cricket fans of all ages and gave their time unreservedly to over a hundred local children who had the honour of receiving Cricket coaching from the masters themselves.
Eight teams from corporate and cricketing communities competed in an entertaining 6-a-side tournament with each team fielding a professional 'ringer'. Channel 4's 'The Analyst' Simon Hughes joined in alongside a host of other huge names in international cricket from the Lashings World XI including Herschelle Gibbs, Richie Richardson, Joel Garner, Rashid Latif, Henry Olonga, Tino Best, Greg Blewett, Andre Nel, Jimmy Adams, Hamish Marshall, Chris Harris, Alvin Kallicharran and Henry Olonga.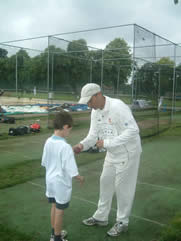 Nasser Hussain said "We get many requests to give of our time and support charities, and there's only so much you can do – but seeing what we were able to accomplish with last year's event has really affected all of us who participated – and we are delighted to be repeating it – and will continue to do so for years to come I hope."
The event climaxed with a stunning Bollywood themed dinner in recognition of funds being raised this year for Operation Smile's Indian project. Simon Hughes eloquently entertained the 300 dinner guests and Operation Smile's Vice Chairman, Manoj Badale spoke about the charity.
He said "It was a humbling experience to see so many people commit time and money to the cause of Operation Smile. A fantastic day was had by all - the teams that played with stars like Gibbs, Blewett, Garner and Laxman; the kids that were coached by Andrew Strauss, Mike Atherton and Nasser Hussain; and the guests that were so ably hosted by Simon Hughes. The event was visited by over 1000 people during the day, and we are extremely grateful to The Park Club to use their fantastic facility."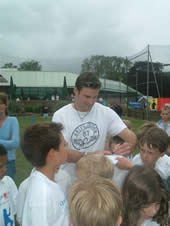 Dr. Bill Magee, Co-Founder of the global organisation Operation Smile comments "We can't thank the cricketers enough. Last year we raised £50,000, allowing for the treatment of over 450 children in India. With their continued support, this year's event is was bigger and better. The thousands of children that we treat each year are helped not only by our volunteer medical professionals, who give so willingly of their time, but also by those committed individuals who use their platform to raise awareness for our work."
Corporate sponsors for the event were Agilisys, npower, Coca Cola, Bank of Scotland, Vama, Far East Beer Company and Cobra Beer some of whom fielded their own teams.
Bank of Scotland, Vama, Far East Beer Company and Cobra Beer
July 7, 2005