Local resident John Taylor sues MP for 'being lazy' in landmark case
In a landmark case, Ann Keen has become the first MP to be sued by a member of her constituency for 'being lazy'.
The Brentford, Chiswick and Isleworth MP was ordered by Brentford County Court to pay £15,000 in damages to constituent John Taylor for breaching her 'duty of care' to the 84 year old war veteran.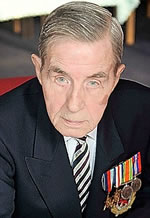 Mr Taylor had asked Ann Keen MP to help him clear his name after he was wrongly jailed for stealing £17 in 1962. He claims to have received no response to 100 letters begging for her assistance which is why he launched an unprecedented legal bid.
Ann Keen MP said, "Claims that I am a "lazy" MP are ludicrous and extremely offensive to me and my Parliamentary staff – in the last year, I have dealt with nearly 1,500 pieces of casework and I regularly meet individuals and local groups in the constituency.
"I have tried my utmost to help Mr Taylor and this case has been ongoing since I was elected in 1997. As recently as last June, I wrote to him to ask his solicitors to contact me if there was anything further I could do." According to the MP's office, she has to date received no communications from Mr Taylor's solicitors about the case.
Ann Keen added,"As MPs, we take on hundreds of cases each year, and many of them have a successful outcome. I am sorry this has not been the case with Mr Taylor, but I had reached an impasse last summer when I asked his solicitors for further information."
Senior Government Minister John Spellar MP defended Mrs Keen and said it should never have gone to court in the first place. He said,"MPs of all parties have to deal with cases of varying degrees of merit. The House of Commons needs to take this up because there are very often problems for which an MO can offer no remedy. The final judgement on an MP should belong with the electorate at a general election."
Calls for the MP to resign her post as Junior Health Minister were made last week after she failed to vote against the Government's plans to build a third runway at Heathrow airport.


February 5, 2009