As the Metropolitan police restructure into twelve units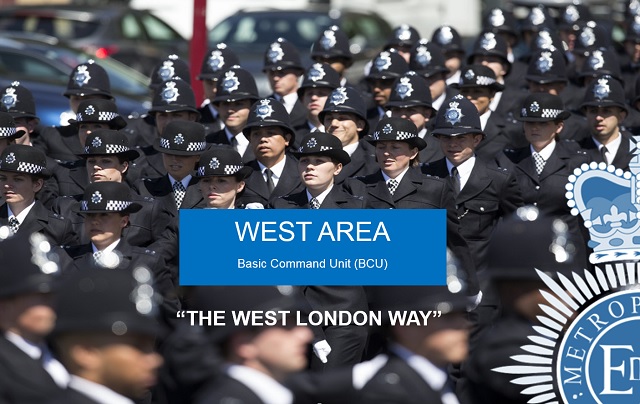 Related Links
Participate
Comment on this story on the forum
The three boroughs of Ealing, Hounslow and Hillingdon have now been merged to form one single policing unit. This will be known as the West Area Basic Command Unit, or BCU.

The creation of the BCUs is a change which is being introduced across the Met, and has already been trialled in East London and North London during 2017, when Barking & Dagenham, Redbridge and Havering became East Area, and Camden and Islington became Central North.

As a whole, the Met is also adapting the ways in which it aims to help to safeguard vulnerable people by investing more resources in preventing and investigating domestic abuse, sexual offences and child abuse. With the creation of the BCUs they are introducing 'multi-agency hubs' where police officers and child safeguarding professionals from other organisations sit side-by-side, sharing information.

According to the new BCU, from a resident's perspective you should notice very little difference. The officers will still be delivering policing locally across neighbourhoods, emergency response, CID and safeguarding, working closely with local authorities across all four borough.

Paul Martin, Chief Superintendent West Area BCU Commander, said, "I am proud to be a Londoner. I have lived and worked in in this amazing city for most of my life and I feel privileged to be entrusted with leading policing services in West London.

"I want to optimise the service we deliver to residents of The West Area through collaboration with our partners and our people. We work tirelessly to deliver the best for our communities and will continue to do this by putting Safeguarding at the heart of everything we do.

"In times of austerity, it is important to work together and identify economies of scale, where we can share responsibilities and resources. I intend to lead a police service which is motivated and committed to serving our communities, empowered to make decisions with a vision of the future we are creating together, through a clear set of priorities which they feel supported to deliver.

"The West BCU will be one of the most diverse in the MPS and the UK. Ensuring, therefore, that this is a police service for all and not just the few, is integral to my plan."

A spokesperson for the new unit said: "Remember you can always report crime to us online via our website: www.met.police.uk/report/how-to-report-a-crime. Our website is also the place where you can find your local ward, find the names of your two Dedicated Ward Officers and PCSO, and access the top reported crimes for your area. The ward pages also allow you to voice your concerns in a poll which will help influence the priorities for your ward in the months ahead.

You can find your ward pages by typing your address or postcode into the Find Your Area section on the website here: www.met.police.uk.
June 8, 2018