Jimmie Chinn's play Sylvia's Wedding, will include a special charity evening
Theatre West Four's November production is Sylvia's Wedding, written by Chiswick playwright Jimmie Chinn.
Jimmie (pictured below) died in 2011 from COPD but for many years lived in Chiswick and wrote plays for TW4, including Straight and Narrow, which was first performed by TW4 at Chiswick Town Hall in 1987 before enjoying a West End run starring Nicholas Lyndhurst.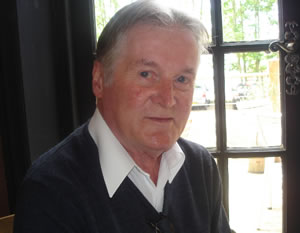 Sylvia's Wedding will be performed at The Questor's Theatre, Ealing from Tuesday, 20 November to Saturday, 24 November.
A special Charity Performance will be held on the 22nd of November. Jimmie was a popular and charismatic patron of the Drama Club for several years before his sad death in January 2011. In fact, arguably his most popular play 'Straight and Narrow' was first performed by the society in 1987 before its National Tour and its West End run in 1991/1992.
Sylvia's Wedding was first conceived in 1994 and was later presented at the Oldham Coliseum on 16th March, 1995. He wrote it as a vehicle for his friend, Lynette McMorrough, a popular television actress who had earlier appeared as Glenda in Crossroads, and also several of his professional friends – Freddie Pyne (Emmerdale), Sally Ann Matthews (Coronation Street) and Norman Rossington. The production completed a small national tour that same year, and it has since become a very popular play with amateur directors and performers.
The Club has chosen to include a Charity Performance in honour of Jimmie's memory this time, and the proceeds will go to the British Lung Foundation that was so supportive to Jimmie's needs as he battled bravely with COPD. It is hoped that BLF representatives will be present at this performance to give weight to the incredible work that they achieve.
Jimmie's friend Peter Slater commented: "Throughout his illness, Jimmie never lost his wonderful smile and humour, and his willingness to communicate with people, and the play will be a fitting tribute to his tremendous talent and personality."
For the past fifty years, Theatre West Four has been staging amateur productions in West London. Members come from all over London to participate in readings, workshops,
rehearsals and productions. The group welcomes enthusiasts interested in performing, directing, producing, stage management and all aspects of theatre production.
Tickets can be purchased on the Questors web site. You can also telephone the box office at 020 8567 5184.

November 7, 2018