Beccy Adlington and Michael Jamieson show how it's done
Medal-winning Olympians Rebecca Adlington and Michael Jamieson were among a host of British swimmers demonstrating their skills at The Park Club.
They were just two members of the British Swimming Heroes Tour giving maAugust 21, 2012
There was a team of more than 20 swimmers, divers, water polo players, synchronised swimmers and disability swimmers at the event, which took place in glorious sunshine at The Park Club's outdoor pool. See the team picture on the right.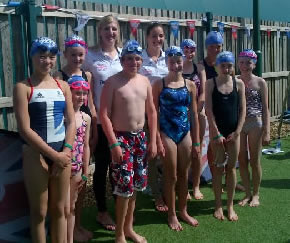 The star-studded line-up included Rebecca Adlington, Michael Jamieson, Keri-anne Payne, Simon Burnett, Ellen Gandy, Gemma Spofforth, Adam Brown, Hannah Miley, Dan Fogg, Pete Waterfield, Nick Robinson-Baker, Monique Gladding, Rosie Morris, Chloe Wilcox, Jenna Randall, Olivia Federici, Yvette Baker, Katie Clarke, Jennifer Knobbs, Vicki Lucass, Katie Skelton and Kate Grey.
They gave master classes for 100 children, aged 8-12, covering swimming, synchronised swimming, diving, mini polo, and water safety and lifesaving skills. There was a chance to watch 'Race an Olympian' and the athletes were also available for photos and autographs.
Rebecca Adlington said: "The British Swimming Heroes Tour is an amazing event to put on and I hope it will inspire children to get involved."
Rebecca, who won bronze medals in the 400m and 800m freestyle, said she took inspiration at the Games from the home crowd. "To hear the roar of the crowd and your name being chanted was just fantastic," she said.
She revealed she was now looking forward to taking a break after her Olympic triumphs - including attending her friend's wedding and hen night, as well as some enjoying some cycling.
Some of the youngsters taking part are pictured above with Rebecca. And below is diver Nick Robinson-Baker doing a pool-side somersault and the GB synchronised swim team showing youngsters some of their moves.
Nick said he started diving at the age of seven. "It's just good fun doing something with the kids today. After the Olympics I just want to relax my body and mind," he added.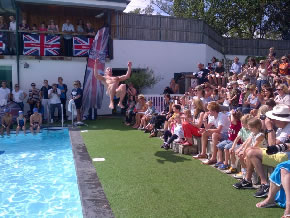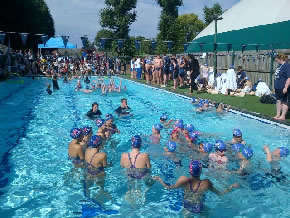 Julia Speller, who won our competition to enable her son Alex to take part in the event, said: "Alex learnt to swim at the Park Club when he was about four years old and was thrilled to go back there to meet the Olympians in person.
"He thought all the activities were brilliant and especially enjoyed the mini water polo, which was 'full on', and loved seeing the diver, Nick, doing a standing back somersault on poolside. The whole event was so inspirational it has energised Alex to want to try out water polo after the summer holidays. If he is anything to go by there will be many new swimmers, water polo players, divers and synchro swimmers this autumn in West London."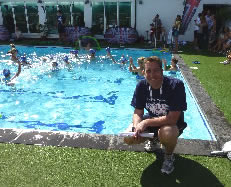 The event was hosted by Steve Parry (left), who won a bronze medal in butterfly at the 2004 Athens Olympics. He said it was the first in a nationwide tour, with the team then due to appear in Liverpool, Glasgow, Coventry and Swansea.
The British Swimming Heroes Tour is sponsored by British Gas and aims to inspire children to get involved in aquatics and to become the future heroes of British Swimming.
More pictures of the fun, taken by Jonathan Tomlin, are below: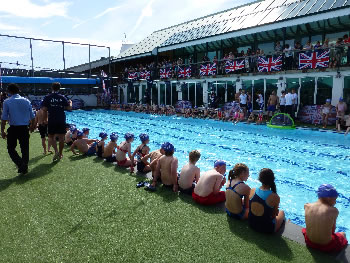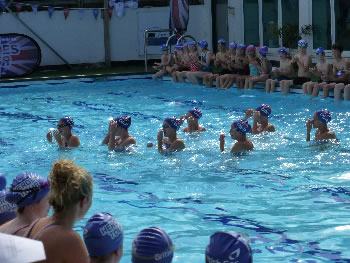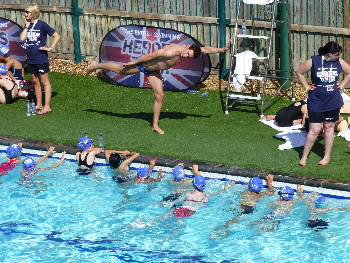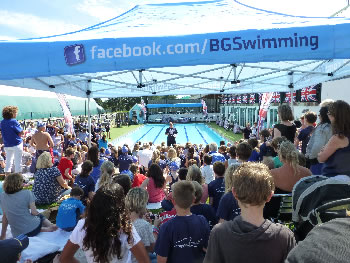 August 20, 2012