New association helps restaurants and diners take greater responsibility
The Sustainable Restaurant Association was launched this week by Giles Gibbons (CEO and Founder, Good Business), Mark Sainsbury (Founder, Moro and The Zetter Hotel) and Henry Dimbleby (Founder, Leon).
The three men knew that not only was there a growing number of restaurants wanted to improve their sustainable performance but also that customers wanted more sustainable action from their eating establishments.
"What wasn't immediately obvious was where restaurants could go to get all the sustainable information they needed, from under one roof," explain the Association's founders.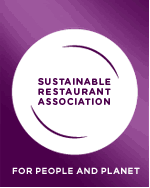 "Sustainability is about long-term success but it's a complicated subject and until now, there's been no industry body to provide the consistent guidance and support that restaurants need.
"Like-minded customers also needed a way to locate restaurants that were serious about sustainability. Those that are actively sourcing local and seasonal produce, reducing waste, increasing energy efficiency or serving Fair Trade – just some of the activities our sustainable restaurants are involved in. The Sustainable Restaurant Association fulfills both these briefs."
Presently the only local restaurant to have become a member of the SRA is Carluccios, although no doubt many others will follow in time.
The SRA defines sustainable restaurants as restaurants that are making an active commitment to being more sustainable, by addressing issues and activities that fall into a number of areas of sustainability including sourcing, environment and society.
To find out more about Sustainable Restaurant Association see www.thesra.org

March 3, 2010