Artist was regular visitor and close friend of founder Sister Mary Joy Langdon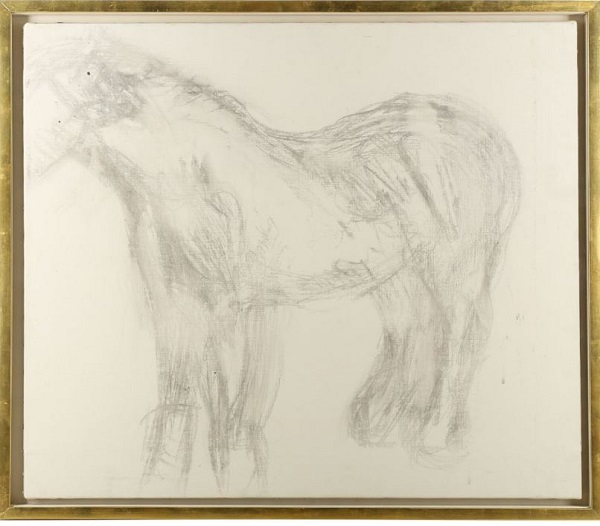 Sketch of Goldie by Lucian Freud
A close friendship between Sister Mary Joy Langdon, founder of the Wormwood Scrubs Pony Centre, and Lucian Freud has led to a previously unseen equine sketch by the celebrated artist to be auctioned to raise funds for the centre.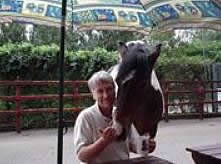 Sister Mary Joy, who was awarded the British Empire Medal for her services to disabled and disadvantaged children in 2018, first met the artist when he turned up at the centre in 2002.
In an interview with the Observer newspaper this weekend, she admitted she didn't know who he was and offered him a beginner's guide to painting horses!
" I said, 'This is a simple book on how to draw horses, maybe you would like to look at it.' Lucian carefully turned over each page, " she said. "Then he handed it back to me in a very gentlemanly fashion, thanked me and said, 'It's very good'," she told the paper.

After that, he combined his passsions for painting, drawing and riding by becoming a regular visitor to the centre, which Sister Mary Joy set up in the south east of Wormwood Scrubs in 1989, as the very first major stable for disabled riders.
"What he valued was that nobody knew who he was. He'd come in the morning. I had several students with special needs in the yard on courses. They hadn't a clue who he was. So that was freedom for him," said Sister Mary Joy.
"He was from a Jewish background. He well knew that I was a Roman Catholic religious sister. He believed you are what you are, not what you come from."
As well as the sketch of Goldie, a chestnut Welsh cob who Sister Mary Joy said 'liked her own space' Lucian did two paintings of the horse that became his favourite, a skewbald mare 'with a lovely personality' called Sioux.
He used to bring Sioux carrots and apples, and would ride her without a saddle and riding hat, much to Sister Mary Joy's alarm. He also quietly donated money to the centre, in envelopes marked 'For Sioux'.
Lucian Freud died in 2011 at the age of 88, and Sister Mary Joy has kept the unfinished drawing of Goldie among her treasured possessions. But now it is going under the hammer and is expected to bring in between £40,000 and £60,000 for the centre.
Sketch of Goldie will be unveiled to the public first the first time at Wormwood Scrubs Pony Centre on 23 November, from 1pm.

Chiswick Auctions will then offer the drawing up in its sale of modern and postwar British art on 3 December.
Chiswick Auctions' saleroom are 1 Colville Road, W3. Find out more here.
Find out more about the work of Sister Mary Joy and her colleagues at Wormwood Scrubs Pony Centre here.
October 28, 2019