Local children make stuffed toys for Children in Need charity
Information and related stories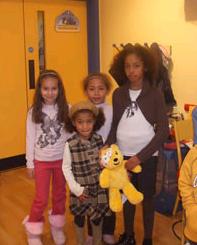 Children from St. Stephen's
The Upper Room charity provides a free breakfast for 4-11-year-olds on the White City Estate, from Monday - Friday during the school year.
It is located in St. Michael and St. George's Church hall in Commonwealth Avenue.
Participate
Comment on this story on the Forum
Register for a free newsletter
Children from St. Stephen's Church of England Primary School on Uxbridge Road took time out of their half term holiday this week to make a furry contribution to a local charity.
About 10 children from different classes made and dressed teddy bears, which will be donated to underprivileged children at the Upper Room project in W12, as part of the BBC's Children in Need Appeal.
The action took place on Thursday morning (30 October) at the new Build-A-Bear Workshop store in Westfield, which was launched earlier in the day.
Four-and-a-half-year-old Alice and 5-year-old Eon were two of the children who helped make a Pudsey Bear, which is the BBC Children in Need's mascot.
"They are big Build-A-Bear fans and it seemed like a nice thing to do for other children," said the mother of 5-year-old Felix and 7-year-old Martha, who also took part in the event.
Upper Room staff said they welcomed the donation: "We look forward to distributing the bears to the children at the Breakfast Club," said Project Manager, Bruce Marquart.
"We welcome any support and recognition for the many fine young children, especially the young members of our UR4Kids Breakfast Clubs," he added. "We are a voluntary organisation with no Government funding, but have been partially funded by the Children in Need Trust for the past four years.
"The Children in Need contribution means that we can provide a stimulating, positive play environment and free meal for any child in need on the White City Estate. No children go hungry or angry to primary schools in White City. They are all welcome and they all arrive at school on time.
"We have an excellent, local qualified staff, and good management for the many children who use our facilities."
Build-A-Bear Workshop is raising funds for Children in Need by donating £5 to the charity for each Pudsey Bear they sell. An additional £1 will be donated for every bear-sized Children in Need T-shirt bought.
Pudsey – who is named after his creator's West Yorkshire hometown - first appeared on television in 1985 when Terry Wogan introduced the brown, cuddly mascot to the Children in Need audience. He returned as Children in Need's official logo the following year, but was now yellow and wearing a red spotted bandage. A 2007 revamp gave Pudsey a new look and brighter colours.
The BBC's first broadcast appeal for children was a five-minute radio programme on Christmas Day in 1927. It raised £1,143 18s 3d and the proceeds were shared between four children's charities.
Last year, BBC Children in Need raised £37 million, which went towards helping 1,343 different projects.
This year, The BBC's Children in Need Appeal is taking place on Friday 14th November.
1 November 2008