Local MP Ruth Cadbury says expansion will mean more cars being used
Ruth Cadbury MP has questioned Transport Secretary Chris Grayling over his determination to pursue expansion at Heathrow without it being conditional on additional rail access to the airport from the South and West.
Speaking after the debate Ruth said ''The Terminal five Inquiry Inspector recommended in 2001 that significant additional rail capacity was needed for that expansion, and without it we've seen traffic congestion and pollution get ever worse across West London and far beyond.
The department for Transports own figures say that Runway 3 means an additional 54,800 vehicles on the road per day, which will in turn only make our congestion and air pollution problems much worse. So it's baffling that the government aren't addressing this by ensuring there's a condition on expansion that requires southern and western rail access to Heathrow be in place before the third runway can open.

With Heathrow announcing this week that they want to add an extra 25,000 flights soon and then a third runway, it's clear that the government need to act to address the impact that transport congestion has on the local economy, on our health and of course on Heathrow's ability to function effectively".
The MP believes that a second runway at Gatwick would provide a better alternative to a third runway at Heathrow in terms of both air quality, passenger experience and value for money.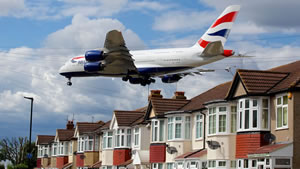 Image- Ian Wylie
Ruth's website.

Department of Transport's website:
January 11, 2019