Saving people in distress on the River Thames
London's lifeboat crews have experienced another busy summer period of searches and rescues, figures released today by the Royal National Lifeboat Institution show. Tower Station near Waterloo Bridge was the busiest while Chiswick Station ranked third busiest overall.
Overall for the Royal National Lifeboat Institution it has been the busiest summer for 24 years, with a total of 4,300 lifeboat launches. This is up from 3,816 in the summer of 2012.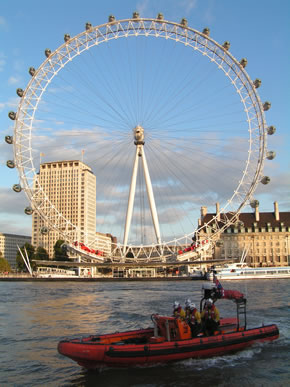 Statistics from the charity, which runs lifeboats from three bases along the River Thames, show there were a total of 263 separate lifeboat launches between June and August 2013. This is just a handful more than the 253 launches recorded in the same period in 2012.
Two of the RNLI's London lifeboat stations were in the top five busiest of all 236 lifeboat stations around the UK and Republic of Ireland. The busiest was Tower station, which operates from a floating pier below Waterloo Bridge. Meanwhile Chiswick station, situated at Corney Reach Pier in the town, was ranked third busiest overall.
The statistics amount to yet another incredibly busy summer of saving all manner of people in distress.
Andrew Ashton, RNLI Regional Operations Manager, said: 'Yet again 2013 has been busy for our lifeboat crew members along the tidal reaches of the River Thames. Yet there are still millions of people living in Greater London that have no idea we have a presence in London. We're akin to a hidden emergency service if you like'
Among the notable rescues that were carried out by London lifeboats between June and August were:
Rescuing four people from the Thames after the speedboat they were in sank within seconds near Millennium Bridge
Assisting the Queen's barge 'Gloriana' after her engines failed and she became lodged beneath Kew Bridge
Plucking a rower and his vessel to safety along with a coach in a small motor vessel after both got into difficulty near Chiswick
Towing an historic, rapidly-sinking Dunkirk little ship to safety after she began taking on water near Kew
Searching the river for a man who was seen walking down onto the foreshore by Waterloo Bridge and straight into the water until he disappeared
Recovering a man who had jumped into the river from Putney Bridge
Helping the crew of a narrow barge which had become wedged against another vessel in the Thames by Embankment in a strong tide
Going to the aid of a man whose boat had capsized in Teddington and he had his shirt wrapped around the propeller, and
Investigating reports of a dead body spotted on the foreshore – which turned out to be the corpse of a giant catfish!
The busy summer season highlights once again the important work of the Royal National Lifeboat Institution in London, which remains a charity and relies entirely on voluntary contributions to run its lifeboats. It is only through donations and support from the public that the charity was able to maintain the stations and launch its lifeboats to provide a vital search and rescue function on the UK's busiest inland waterway.
Anyone interested in reading more about the work of the RNLI's London lifeboats can visit the individual lifeboat station's websites http://www.towerrnli.org.uk/http://www.chiswicklifeboat.org.uk/ and http://rnli.org/findmynearest/station/Pages/Teddington-Lifeboat-Station.aspx
September 25, 2013