Roads will close throughout the day as thousands of cyclists race through London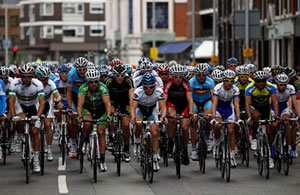 The Prudential RideLondon cycling events return on Saturday 28 July on closed roads in central London and on Sunday 29 July on closed roads in east, central and south-west London, and in parts of Surrey.
On Saturday 28 July, spectators will be able to watch the following events in London:
Prudential RideLondon FreeCycle - up to 70,000 cyclists exploring an 8-mile traffic-free loop in central London.
Prudential RideLondon Classique - see the world's best female cyclists compete in this UCI World Tour race.
Brompton World Championships - The 11th Brompton World Championship Final will take place on closed roads around St James's Park.
On Sunday 29 July the following events will take place in London and Surrey:
Prudential RideLondon-Surrey 100 - 25,000+ amateur cyclists will take on a 100-mile cycle challenge through the closed roads of London and Surrey before finishing on The Mall
Prudential RideLondon-Surrey 46 - a new event over 46 miles within the existing 100 mile challenge which has been designed as an introductory sportive for amateur riders, also starting at Queen Elizabeth Olympic Park and finishing on the Mall
Prudential RideLondon-Surrey Classic - the world's best male cyclists will compete in this one-day race through London and Surrey. The race starts at Horse Guards Parade, St James's Park before heading into Surrey and returning to the Capital to finish on The Mall
Many buses will be on diversion or will stop short of their destination and some may be affected by traffic displaced by road closures; this includes route 65.

There will be extensive road closures on and around the routes; roads will be closed from early morning and will re-open when it is safe to do so. Pedestrian access to properties will not be affected. A number of bridges in London and Surrey will be closed at times over the weekend.
You can see full details of these closures, plus access to surrounding roads and crossing points on the TfL website.
For more information on the routes and rides visit Prudential RideLondon.

July 19, 2018