Studio 8 cafe and Bar has opened at the new Riverside Studios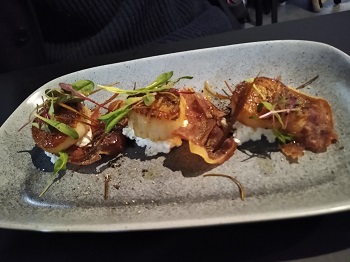 ( scallops & prosciutto)

Whilst we continue to wait for Ealing's cinema and the Acton Arts Centre to take shape it's good to check out what's available elsewhere and having kindly been invited to try out the new cafe bar in the refurbished Riverside Studios I was given the chance to get out of Ealing and ( shock horror!) cross the border.

The Riverside Studios in Hammersmith has undergone a major transformation and the arts and events venue now boasts two cinemas, a variety of studios and a gallery.

Studio 8 is the cafe and bar on site, open from lunch until late and perfectly situated for a quick bite or a leisurely evening meal.

We opted for the latter and were well looked after by the cheery and enthusiastic staff. Not knowing what to order we sought some advice and very pleased we did.
The menu (pdf) was very pleasing as a vegetarian I thought there was plenty of choice ( which is a refreshing change) and my meat eating companion was content with the options too.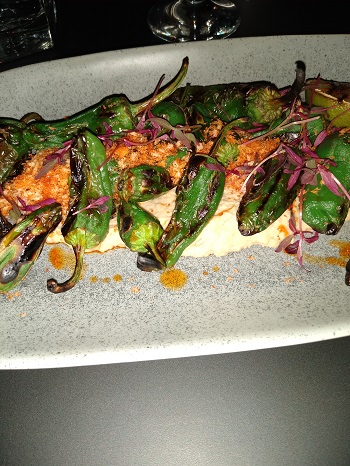 ( padron peppers)
Small plates were starters and although I thought priced a tad on the high side (£9) it was good to see scallops on the menu - not many places do them. These were seared with prosciutto and lemon butter but I was persuaded to opt for the recommended chargrilled padron pepper on a lovely creamy hummus base, this was light and tasty, and washed down with some deliciously refreshing Vinho Verde, once again recommended by the knowledgeable staff.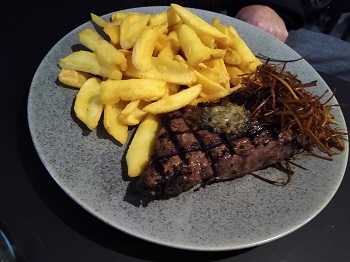 (steak frites)
Steak and chips for the carnivore was well appreciated (£13.50) and cooked just as requested- medium rare... perhaps green veg or tomato could be added as it's not exactly a colourful plate, but no worries, it all got eaten with appreciative sounds being heard.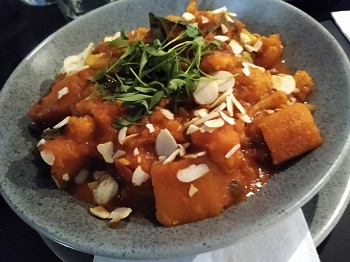 My Butternut and Cauliflower curry (£8.50) with rice and optional flatbread and tzatziki (£1.50) was delicious. Creamy and satisfying - not too spicy,but full of flavour. It was more filling than I anticipated tho and because we were keen to try the desserts I had to concede defeat before it was all finished...
The puds were gorgeous. My banoffee pie with Madagascan vanilla ice-cream was a picture and almost ( almost!!) too nice to eat... but somehow I managed!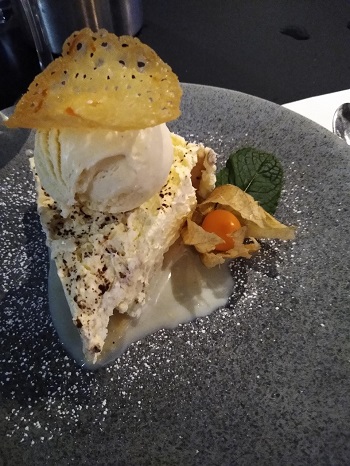 The poached pears with strawberry balsamic, candied walnuts, mint and berries was a big hit. Very comforting ( a hint of Christmas in this - cinnamon maybe?) and a range of tastes and textures. It's an unusual offering on the dessert menu, not one you would see in many places but one we would recommend you try.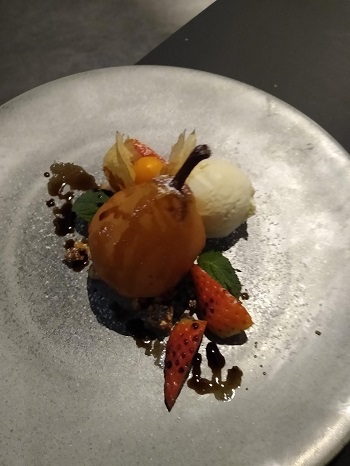 ( poached pears)
It wasn't too busy when we visited but trade is certainly picking up and with plans to have tables outside it will be the perfect setting for a relaxed summer evening.
Studio 8 has a nice chilled vibe and is a great place to drop into before or after a show, or even just to meet a group of friends or have an intimate dinner a deux. Every taste is catered for, pop in and see what you think.
Annemarie Flanagan
11th February 2020