King Street's Gastro Ups its game
As with most new ventures, Ruby Grand took a while to find its feet on King Street. With vast array of bars and restaurants along the stretch not to mention the Chiswick High Road so close by, it really needed to up its game to ensure not just survival but success.
Returning recently, I was pleased to see that the former bounceresque bar staff had been replaced by a smiling young man who did his utmost to fulfil my companion's desire for room temperature water (not the strangest request she's ever made!). And when he overheard me mention that we would eat a little later, he was keen to ask if we would like him to reserve a table.
All this was a marked contrast to our first visit back in October last year. "We have a new manager, Richard, who has changed most of the menus and has made sure that staff are well trained." Michael Fletcher, Director of The London Bar Company told me the following day. "There is a much more extensive cocktail list and in particular, a list of over 40 rare rums. The lunch menu now features dishes which are quick to serve (within 15 minutes) and in the evening we offer a more relaxed gastro environment."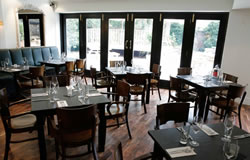 After drinks in the bar we decided to take a table in the dining area and took a look at the new more concise menu which features enough for a choice but not enough for a dilemma.
We chose to start with a bowl of spinach and potato soup (£4.50) which was just what the doctor had ordered for my room-temperature-water-drinking companion and her sore throat whilst I worked my way through a lucious mound of tiger prawns bathed in potent garlic butter (£7.50) making a huge mess as I went and enjoying every moment (which of course is only possible when sitting opposite someone who loves you inspite of anything, even questionable table manners).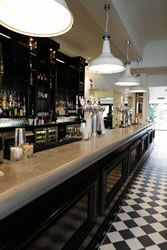 For mains my companion chose whole baked sea bream on a pile of mash potato with a velvet rich cream sauce (£12.00) and I went for a Home-made burger on ciabatta with tomato, red onion, salad, chips (£8.50). Whilst the fish was the more successful of the two, both fairly priced dishes managed to achieve an agreeable home-made quality.
To drink we shared a bottle of Punta Negra Shiraz (£15.00) and the biggest jug of tap water I'd seen since my days in the school lunch hall.
With an espresso (£1.50) to round off the meal, the bill came to £55.12 including service.
Which brings me nicely to my point about the new and improved service. In marked contrast to previous occasions, it was evident even before my conversation with the management that steps have been taken to improve service including language skills of waiting staff. Whilst I wouldn't go so far as to say it was exceptional, I'd give it top marks for effort and was happy to pay the service charge although I would prefer it if it hadn't already been added on for me.
Future plans for Ruby Grand include Live Jazz on Saturday nights, Sunday Roasts are "The finest in the area. We would be willing to challenge other pubs to equal our roasts." Says Michael, "We are also finding that more people are using us to celebrate events with the white room in particular becoming a popular party spot."
Full details are available at www.ruby.uk.com

Emma Brophy

May 12, 2008