Lucy Metherell explains why she adopted this Stamford Brook pub as her 'local'
Related Links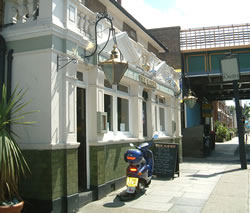 £5 lunch Monday – Friday
£10 for 2 courses Monday – Thursday evening
Summer bbq and grill every Sunday from noon
Live music last Sun of the month
Opening hours: Monday – Thursday (12pm – 11pm)
Friday – Sunday (licensed to stay open to 1am at discretion of the bar staff)
Participate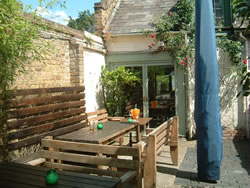 The Raven 375 Goldhawk Road Tel: 020 8748 6977
It can take a little local knowledge to discover the delights of The Raven. Despite being located just a stone's throw from Stamford Brook station, it's all too easy to walk past the pub without giving it a second glance.
Lucky for me then that a friend once persuaded me to venture out of W4 and to give her local a go. A few years on and despite my occasional grumble at the walk home, I've now firmly adopted The Raven as my 'local'.
What The Raven lacks in geographical proximity (and despite my complaints it's really not that far!), it more than makes up for in atmosphere. It's almost always busy in the evenings and tends to attract quite a young crowd. Despite extending over three rooms and an outside terrace, The Raven is often so popular at the weekends that it's a struggle to find a seat.
Behind the bar, an enthusiastic and international team of bar staff keep the punters happy – exchanging banter with regulars and playing a varied selection of unobtrusive music.
The main bar area, with its wooden floor, array of worn leather sofas and log fire is especially inviting in the winter months. Towards the back there's a light and airy conservatory and beyond that a restaurant area where customers can enjoy a relaxed meal at rustic wooden tables.
The pistachio and cream paintwork, mismatched chairs and an abundance of candles give these rooms a slightly quirky almost retro feel which perfectly matches the character of the pub.
Although I usually choose to go to The Raven for a relaxed drink with friends, the pub also serves a varied range of gastro grub. The snacks and sharing plates are fairly reasonably priced and include several vegetarian options – potato wedges being a particular favourite.
On the day I went for lunch with a friend we both opted for the £5 lunch special washed down with lemonade and a large white wine respectively. I opted for a cod, chorizo and saffron fish cake with chilli sauce and a side garnish of salad.
My lunch date chose a more traditional cheese burger and chips. The fish cake was delicious; the different flavours worked surprisingly well together and the chilli sauce gave it a real kick. My lunch date was also equally impressed with her succulent burger. The bill (including a bottle of sparkling mineral water) came to £17.10.
Whilst I wouldn't necessarily go out of my way to have lunch at The Raven, for £5 it really was fantastic value and the friendly and prompt service made it a very pleasant experience.
I'd recommend trying The Raven in the evenings when the pub really springs to life. And, if you come down to The Raven on the last Sunday of the month, there's reputedly live music… See you there.
Lucy Metherell

July 27, 2007