Liz Vercoe sees Mayfly – at the Orange Tree Theatre, Richmond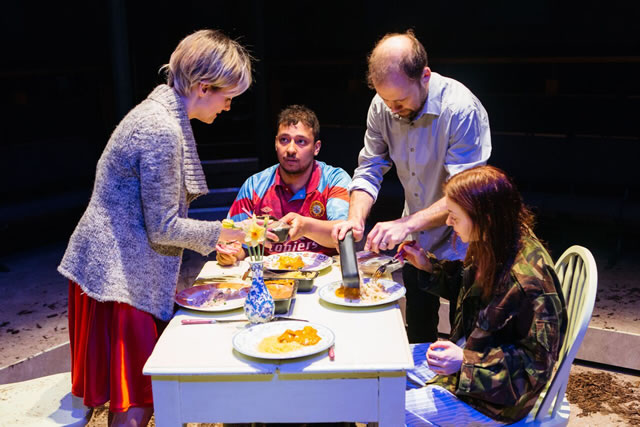 Niky Wardley, Irfan Shamji, Simon Scardifield and Evelyn Hoskins

We are born, we live, we die. In case of a water-skipping mayfly in just 24 hours! Reflecting, as this play unfolds, so much can happen in a day... even with humans. And what a treat it is to sit just feet from actors at the top of their game, to become lost in the world they weave before us and, in this case, at the end to emerge glad, as our mothers told us, it was just a story.

But what a story! Writer Joe White's debut play is set one Sunday in May, in what remains of a Shropshire farming village that is being erased by the departure of all its young people to seek work. Left behind is grief for all that has been lost and also a visceral fear of being separated from the stones and rocks and land – and the local pub ¬– that are inscribed with memories, both happy and tragic.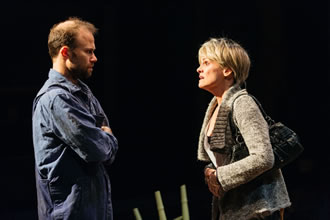 Simon Scardifield and Niky Wardley

Farming stock Ben, played by Simon Scardifield, is troubled, silent, and inwardly focused on a place that seems to be just behind his eyes. At a moment of despair, he meets young Harry, the now unemployed local barman, played by Irfan Shamji, who is equally skilled as Ben at apparently walking on eggshells, and the two express a diffident male protectiveness and repressed sensitivity that is both mutual, honest and funny.

The two women of the story are firebrand Cat (Niky Wardley), Ben's angry wife, who at first sight appears to be simply seeking empty-headed healing for approaching middle age in a boring village, and their other-worldly daughter Loops (Evelyn Hoskins), fragile lover of all things military and whose staccato speech is like bursts of rifle fire...or suddenly suffocated cries for help. Symbolic of mother and daughter's tug of war over who has greatest claim on the future, and ownership of the past, is a sparkly sequinned red dress that for them both seems to scream a prayer for life in the face of the alternative.

Harry has stumbled upon a family riven by a great hole at its heart but unable to articulate it. And what is so enjoyable for the audience is that nothing is spelt out in what they say, and no behaviour is exactly what it seems, which has to be among of the greatest curiosities of being human and the greatest cause of our worst discomforts. We too often try to behave as we think others want us to, and Joe White has crafted a story around the pain and even hilariousness, that invariably results. Maybe we'd give it up if our lives were as short as mayflies, but it here it keeps us emotionally hanging on to the very end.

Designer Cécile Trémolières sets the stage for the unfolding secrets with a May as bleak as the arrival of our current one, with end-of-winter dead leaves and pub-garden detritus across the stage and a tree bough barely burgeoning with spring green. But not all is hopeless. Like those tiny green shoots, Harry with his own far-too-youthful experience of handling pain and troubled parents, brings a stumblingly straight-talking wisdom into this family's life. And a glimmer of hope. Tremendous.

Liz Vercoe

images: Helen Murray


May 3, 2018