Liz Vercoe sits out a two hour bi-athlon while others escape at the interval
It kind of says it all when the cast of a play ask the audience to give themselves a round of applause for returning after the interval. Looking at the fresh gaps in the seating for the second half, I was grateful it wasn't just me that had felt that way about the first 70 minutes of this 2 hour 20 minute bi-athlon. After (unsuccessfully) trying to work up a bit of whooping from us remainers, we were blamed for being too "straight" to have fun.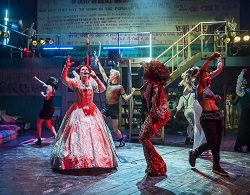 Jubilee is a reworking by Chris Goode of Derek Jarman's 1978 punk movie, which relocates the story today, 40 years on, ie post Thatcherism and Blair and Cool Britannia and where The Queen still reigns and where gender fluidity no longer makes newspaper headlines, even if not everyone takes it for granted. Which is part of this play's problem, it doesn't shock. We've had full-frontal stage nudity ever since Hair with its coach party audiences launched 50 years ago.
OK the incest element is still a no no, but the play's reasoning that it was being trapped on the 14th floor of a tower block until the age of four that sealed brothers Angel and Sphinx's partner preferences (and fate) doesn't hold water. And the slightly rambling comedy-come-savagery against heterosexual men fails to convince that the core girl gang (all too slim for 2018) is as murderous as the script would have us believe. There's just no menace. Anywhere. Even in the soundtrack. Punk screamed.
The characters remain much the same as in the movie, as does even one member of the cast – Toyah Willcox played Mad, one of the punks, on screen, but here she is finely cast as the time-travelling Queen Elizabeth 1 who puts these people under the microscope.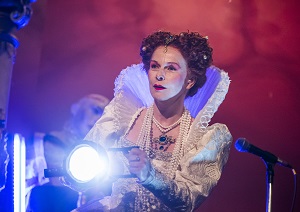 There are changes, though, a church disco and a bingo hall in 1978 become a gay club in 2018. Make of that what you will. Wetherspoons with everyone sitting around looking at their phones might have been more appropriate.
When Vivienne Westwood first saw the movie she damned it as boring, although then really tried to see more in it and wrote her thoughts on a t-shirt. She's a smart woman, so maybe it just doesn't need reworking, except on an item heading for the cold wash.
In 1978 the cry was that we were all headed to hell in a handcart, in 2018 we, and even more so the millennials, all sort of say, yep, that's right, and don't need the second act to tell us.
All in all, the only people who might get more out of this than most are 60 to 70 year-old former punks enjoying a trip down memory lane... and Matt Lucas's Daffyd, the only gay in the village.
Jubilee 2 hours 20 minutes (with 20 minute interval) runs until 10 March 2018. For tickets call the Box Office on 020 8741 6850 or book online at the Lyric's website.
February 23, 2018