Roland Hanbury vists his new local restaurant
Related Links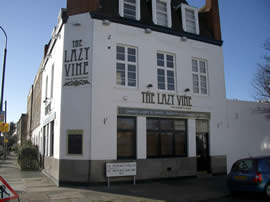 Participate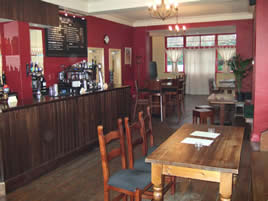 The Lazy Vine
91 Black Lion Lane
Telephone: 020 8222 8275
John Wort has taken over the lease of the building that used to be Le St Pierre at the junction of Black Lion Lane and St Peter's Villas (technically just over the border into Hammersmith but who's being picky?).
The Lazy Vine has been operating as a wine bar for several months, but due to technical problems with the gas supply in the kitchen has only recently started serving food.
I was keen to try it because I had heard that the head chef was Keith Shepherd, who has also worked at Fish Hoek and at Latymer Upper School, both institutions that have a reputation for excellent food. I was not disappointed!
We went there on a Friday evening. The Lazy Vine is small, with only about 10 tables. These gradually filled up during evening, but only about half the customers were eating; the rest were drinking, smoking, and enjoying the background jazz funk music.John told us that the clientele for food is building week by week as word spreads that they are now fully open for business.
It was quite smoky, but this is a problem that will disappear as soon as the public smoking ban comes into force. John bustled about simultaneously acting as proprietor, waiter, and bartender; and Keith appeared from the kitchen from time to time when things weren't too hectic, all of which made us feel very personally welcome.
I started with the "hand-picked Cornish crab salad with tangy salsa verde" which, in common with the rest of the menu, proved a very accurate description; not once were we surprised by what we received. The crab was deliciously fresh, and the need to chew slowly to avoid the various bits of shell only made us savour it the more. The salsa, featuring shredded peppers and mango, provided the perfect contrast, and even the bed of lettuce leaves was satisfyingly crispy. My wife, who normally does not like crab, and had not intended to have a starter, wound up eating half of it.
For the main course I had "grilled butter fish topped with fresh mango salsa served on a bed of sweet potato mash with slow roasted vegetables". This was a nice mixture of contrasting fresh flavours and textures, with the sharp salsa complementing the rounded softness of the sweet potato mash and the firm meatiness of the fish. My wife had the "chargrilled home-made spicy lamb and mint burger with mango salsa, wrapped in a flour tortilla served with mixed salad and fries." (We accidentally chose the only three dishes on the menu that came with mango salsa, but this wasn't a problem as we like mango). It was a little overdone to her taste, but since she likes her meat slapped on the rump and walked past the stove still mooing before being served, that was pretty much bound to be the case unless we had specifically requested it rare, which we did not. The flavour was nonetheless superb and the portions generous. The meat, incidentally, is all supplied locally by Macken brothers from Turnham Green Terrace.
For dessert I had the trio of sorbets; all handmade and delicious. The champagne sorbet was particularly spectacular - I felt that with each spoonful I was eating concentrated essence of holiday! My wife had the rich chocolate, orange and Cointreau torte, a hefty slab which followed Austrian cooking principles of not wasting any valuable space on air. Even with both of us digging in, we were unable to finish it despite valiant efforts.
It cost £45 for the two of us, including two glasses of the perfectly acceptable house white. All in all, I would say that this was just as good as my last visit to the River Cafe, but at about a third of the price, thus representing excellent value for money.
John is working hard on the garden and intends to serve outside in the summer. I expect to be back frequently.
Roland Hanbury
July 5, 2007