Win a meal for two in our competition
Related Links
Rara
279 Sandycombe Road
Kew TW9 3LU
Open evenings only
Tel: 020 8332 1020
Locate on map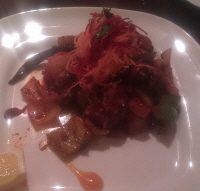 Pahari Peero Lamb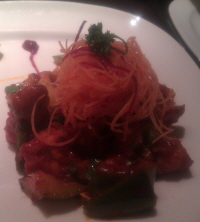 Chicken Chilli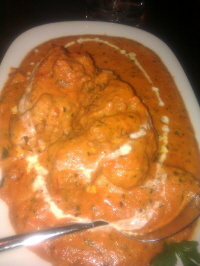 Royal Rara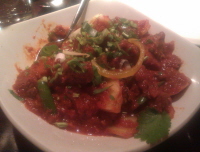 Gurkhali Lamb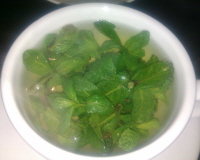 Mint Tea

Participate
Sign up for our free newsletter

Comment on this story on the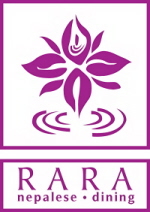 Rara is a small local well-established Nepalese restaurant, whose owner Baz hails from Brentford. Unusually he gets his meat supplied from a butcher in Hanwell (where his mother has been shopping for years). On the evening we went there was a steady stream of customers throughout the evening, with tables rarely empty for a moment as well as takeaways being taken away.
Unlike many Indian restaurants, this restaurant uses next to no fats and oils when cooking which means the dishes are much less greasy than can be found elsewhere.
The menu is extensive, with a good selection of Tandoori, extra hot, Biryani, fish and vegetable dishes along with the curry classics. While you're making your decision, which does take a while on your first visit, a sizeable basket of poppadums, both plain and spiced arrives to be munched on with accompanying dips. These are very freshly cooked, light, airy, crunchy and not at all greasy, exactly as desired. The only complaint is that there were too many of them for the two of us and we ate more than we should. The spiced ones also arrived in a cone shape which was a nice touch.
I had Pahari Peero Lamb for starters, and you can see a large roasted finger chilli in the top left of the photo. Don't bite if you don't like it hot. They're quite easy to avoid if you choose and provide quite a kick if you eat them. The sauce was slightly sweet, very hot and a light thin covering on the meat, with onions, green peppers, mustard seeds and curry leaves.We were told afterwards that this is the hottest dish on the menu.
My companion had the Chicken Chilli which again is a Nepalese dish, this time of chicken breast marinated in spices and sauteed with capsicum, onion, spicy tomatoes and fresh green chillies. This was sweet and spicy, like a marinade.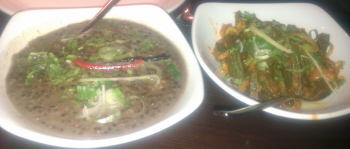 To accompany our main courses we had Nepalese Special Daal (pictured left) and Bhindi Sukha (right). For me the Daal was the highlight of the evening: black lentils cooked with ginger, green chillies, onions and tomatoes, this was mild, simple, creamy and very moorish. The okra was cooked with tomatoes, capsicum and spring onions and was quiet nice but mild, making a good accompaniment to such strong tasting dishes.
I felt a duty to have Rara's signature dish, Royal Rara for my main course. This is a hefty chicken breast wrapped around a king prawn, which is a nice combination with contrasting tastes and textures.This is then cooked in a lovely and plentiful masala sauce, very creamy, very rich, slightly too large a portion.
Having had chicken for starter my companion had Gurkhali Lamb which was a good tasty spicy dish, not too dissimilar from our starters. Although quite spicy it was still possible to distinguish all the flavours of this comforting dish.
We were unable to face a pudding, having left our main dishes not fully emptied (at which point we decided we'd had too many poppadums!). Rara offers the traditional desserts of Gulab Jamun and Kulfi (traditional Indian ice cream) but also offers a selection of Movenpick ice-cream, which connoisseurs will recognise as high quality excellent ice cream.
Instead we finished with a refreshing and much needed mint tea. Unusually and deliciously this was a cup full of young mint leaves with boiling water; light, minty and well-perfumed.
We had a decent bottle of house red, whose name escapes me but there was a good choice of both wines and beers. Dishes were reasonably priced with starters and side dishes under £5 and most main dishes under £10.
Rara has a good customer base within walking distance but would like to appeal to those this side of the Thames. It's worth the journey.
Rara would like to offer a competition prize of a meal for 2 (up to the value of £30) to all registered members of this site. Please email info@neighbournet.com with your answer to "What cuisine is served at Rara?" by 22nd March.

Kath Richardson
March 20, 2012