King Street Indian Proves Highly Distinctive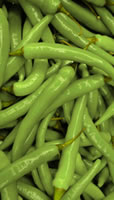 Opening an Indian restaurant in King Street is a daunting prospect, given the fierce competition. To succeed you have to be very good and highly distinctive – and that is what Green Chilli does brilliantly. It's an Indian restaurant with a difference. It's got oodles of style.
Light and bright with specially designed, arty china and cutlery (from India). And it has classy food to match, offering many familiar dishes and several new ones, all with deeply satisfying and individual flavours.
The Green Chilli's success is indicated by how packed it was on the Saturday we went there. We didn't book, but booking will become essential if its popularity grows.
It is best to be very hungry when you go, because portions are generous and you are likely to want to try one or two extras from the more unusual dishes. You choose from a shortish menu which is divided into vegetarian and non-vegetarian, and the good news for veggies is that there is a bigger choice than you usually get in Indian restaurants.
We started with a poppadums basket, which was a knockout surprise. Instead of the usual layers of flat poppadums, two had been shaped into baskets that were filled with brightly multicoured puris, mini-paps and other Indian 'crisps'. They were served with pickles and chutneys which arrived in individual porcelain containers. All this was a perfect example of the restaurant's winning mix of style and food quality.
We followed with more starters: chilli corn and veggie samosas. The chilli corn is a must have, unlike anything we have had before. It was a chunk of grilled sweetcorn smothered in a delicious deeply spicy sauce and served puris with a beetrooty sauce. The samosas were as they should be, spiced vegetables in light crisp pastry, served with more pickles in their lovely little pots.
For my second course I had paneer saagwala (paneer cheese with spinach and onion) and my companion had murgh mussalum. Paneer cheese with spinach is a favourite of mine and I wasn't disappointed. The murgh had quality pieces of chicken in a hottish tomato and chilli sauce. My carnivorous companion is a big curry fan and declared himself more than delighted. Even a side dish of that old standby Dal Makhani proven to be another tasy delight. We didn't have rice as we were persuaded to try a rooamali roti, a thin and tasty wholewheat unleavened bread.
The food was eased down with a bottle of Chardonnay from a short, well priced wine list.
The desserts, if you have room, are from the old fashioned school of Indian desert schools and include ras malai, gulab jamun with ice cream and kulfi. But going by the rest of the meal, this creamy comfort food is likely to have a special added zest.
Green Chilli is therefore Indian cuisine well above the average, in an attractive modern setting with service that is delightfully helpful and polite (which helped smooth a couple of glitches, probably caused by the exceptional busyness of a restaurant that was then only a few weeks old). The website says the chefs are all highly trained in the big hotel chains in India and Dubai and this shows in the cooking. The site claims it is Indian home cooking, but if that's the case it is home cooking with a real panache.
What's perhaps most surprising is that you get all this at around the same price as other Indian restaurants that above the basic 'flock-wallpaper' level. Two should be able to eat and drink well for £40 to £50.
There's a take away service with delivery within a three mile radius, which comfortably includes Chiswick and Hammersmith.
And a final nice touch is the Green Chilli loyalty card. It costs just £5 and gets you a hefty 20% off your meals for a year.
Penny Flood
April 13, 2007