Penny Flood is bored by The Open House at the Coronet Print Room
Will Eno's play is in two barely related halves, neither of which makes a great deal of sense and result in a tedious 85 minutes.
I know Eno has a following and is a highly regarded playwright in some circles and, like his plays, including this one, has won awards. The programme notes go so far to say he's been compared to Beckett, but that's where I beg to differ. Love him or loathe him. Beckett always left his audiences with something to think about. This, with no narrative, no character development and an overwhelming air of pointlessness, left me with nothing to think about.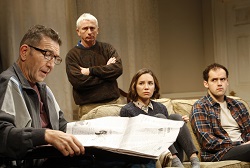 The first story is about a family - Daughter (Lindsey Campbell), Son (Ralph Davis) and Uncle (Crispin Letts) - who have come together to celebrate the parents' - Father (Greg Hicks), Mother (Teresa Banham) - wedding anniversary.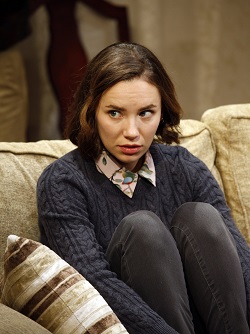 The whole thing is dominated by the horrible wheelchair bound Father who spits venom every time somebody tries to speak so there are lots of awkward silences. One of them goes to find the family dog that has gone missing and one by one the others leave.
Then it turns out that the house is for sale and the five characters change their clothes and come back as estate agent and buyers. They witter a lot and then - this is the best bit - the dog that went missing in first part comes bounding in, a big golden retriever with a big waggy tail, loving all the attention.
Her arrival didn't redeem the play but it made for a nice ending.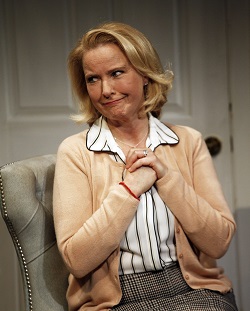 The Open House continues at the Coronet Print Room at 103 Notting Hill Gate until 17 February. For more details and to book tickets, visit the Print Room.

February 2, 2018