I wasn't prepared for how beautiful it would be, says Penny Flood

I love dance and I love poetry and I'm always keen to discover new poets, so an evening that promised all three was something to look forward to. But I wasn't prepared for just how beautiful it would be.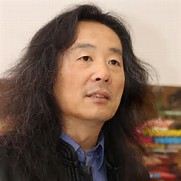 Narrative Poem is an autobiographical work telling the story of Yang's life, including the death of this mother, surviving the cultural revolution, losing his Chinese citizenship and living in London. It's so powerful that the first edition of 3,000 copies were destroyed by Chinese officials because it mentions the Tiananmen Square massacre.
Yang reads his poem in Chinese accompanied by his translator Brian Holton. The fact that he's reading Chinese doesn't detract, it adds to the intensity. As he recites this very personal work there's a passion and the words have their own rhythm and they just flow, charting the bad times the good times, hope and survival. It's very long and the autobiography is intertwined with his thoughts and ideas
He's accompanied by a cello played by Sophie Harris and dancer Laura Calcagno, all choreographed by Hubert Essakow.
To say it's moving is an understatement.
Yang Lian is acknowledged as the world's most influential and innovative Chinese poet. He was born in Switzerland and taken to China where he went to school in Beijing until his education was interrupted by the cultural revolution. After that he became a founder member of the Misty Group, Chinese poets who reacted against the artistic restrictions of the cultural revolution.
Narrative Poem is just one of his many works. He's much in demand around the world and has been invited to be the writer in residence by many international institutions, and to sit on the juries of numerous writing and poetic awards. He has also been invited to be an adviser of Free The Word (International Literature Festival of PEN), International Literature Festival of Berlin.
In 2012, he became the artistic director of ArtsBj, a privately owned website, and started Arts.com International Chinese Poetry Prize, an international prize for the poems written in Chinese.
When somebody has so many claims on his time, it's brilliant that he could come to the Print Room at the Coronet. I count myself very lucky to have seen him.
It's part of the Coronet Intentional Festival and, if it's all as good as this, long may it last.

The festival, at the Coronet Print Room at 103 Notting Hill Gate, runs until 29 November. For more details, visit the Print Room.
November 15, 2017