This play about racism is both entertaining and thought-provoking, says Penny Flood
This terrific revival of Alice Childress' play about racism in the arts fulfils two important requirements of theatre: it's entertaining and it gives the audience something to think about.
It had its first showing in New York in 1955 and won its writer an Obie Award for an off-Broadway productions, making her the first African -American woman to win an Obie. At one point it looked as though it would transfer to Broadway, but the producer wanted to change the script to make it more palatable to commercial audiences. Childress refused and the play never opened on Broadway, something that has echoes here.
It's a play within a play as the story's goes over a two days as the cast rehearsal for an anti-lynching play called Chaos in Belleville.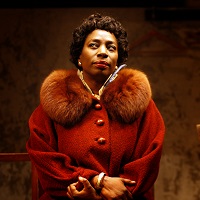 Star of the show is Wiletta, played by Tanya Moodie who was also largely responsible for the play's current revival. Wiletta dreams of playing on Broadway and Chaos in Belleville is her ticket. She's a terrific character, very theatrical with a larger than life personality, but she's a black woman who knows her place, as she tells the young John (Ncuti Gatwa) that he has to smile as white folk don't like unhappy negroes to make sure he laughs at the (white) director's jokes even when they're not funny.
The director is Al Manners in a terrific performance by Jonathan Slinger, bellowing as he strides around the stage controlling the mixed race cast with a mix of bullying and charm, usually at the top of his voice. There's a lot of humour in his performance, but even he, the man who is proud of bringing Chaos to Broadway, shows that his liberal attitudes are only skin deep when he's under pressure.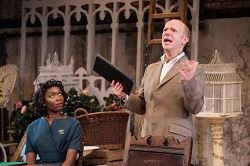 Even more disturbing is the attitude of Bill O'Wray (Geoff Leesley) the plantation owner who makes a big speech in favour of fairness for slaves, which is completely at odds with his real life attitude; Bill won't eat his lunch with the black cast members in case someone sees him.
On the other hand, the other white actor Judy (Daisy Bolton) is embarrassed because she has to say the D word.
There's terrific support from Faith Alabi who plays the prickly Millie Davis and Andrew Alexander who, as the director's assistant, has to bear brunt of many of Al's tirades, especially when the tape recorder with the pre-recorded applause doesn't work. And a huge shout out for Pip Donaghy as Henry the Irish caretaker who drifts throughout the action supplying coffee and cakes, happy to talk about the oppression and home rule back in Ireland, to anybody who'll listen.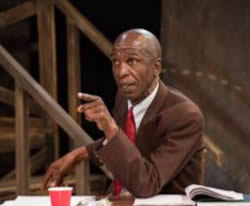 But it's elderly actor Sheldon Forrester (Ewart James Walters) who makes the show real for everybody with his harrowing account of seeing a lynching when he was a teenager. As the reality of the show sinks in Wiletta grows to realise that the part she has to play is a lie, no woman would behave like that she tells the director, who just doesn't get it. Alone on stage at the end, she has to choose between her dream and her conscience.
Trouble in Mind continues at the Coronet Theatre's Print Room, 103 Notting Hill Gate until 14 October. Find out more and book tickets on the website.
September 29, 2017